'Shaped Me to Who I Am': LeBron James Opens up on Rivalry With Steph Curry and Warriors
Published 05/17/2021, 6:25 AM EDT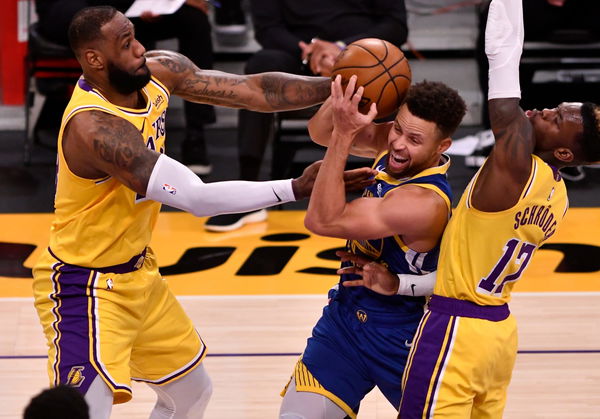 ---
---
Yet again, it's a battle between the greats – LeBron James vs Stephen Curry. Both the star-studded teams, the Los Angeles Lakers and Golden State Warriors have unfortunately ended up in a fix. The two are eyeing the playoff spot at the moment with the play-in tournament starting in two days.
ADVERTISEMENT
Article continues below this ad
It's a highly anticipated clash as nobody expected these two teams to meet while they were on the brink of uncertainty this season.
More than anything, fans are hyped up about watching LeBron James and Stephen Curry on different ends of the court again. It seems like a flashback to the Warriors-Cavaliers rivalry that stood strong for four consecutive years in the Finals.
ADVERTISEMENT
Article continues below this ad
Lakers vs Warriors: A play-in battle
With the LA Lakers take on GSW in the first round of the play-in tournament, the intensity will be high. LeBron has subtly taken a strong stance on thrashing Steph Curry and Co.
During a press conference ahead of the awaited game, the former champion says he's ready for 'every challenge'.
"Every obstacle that I've had, every challenge that I've had, every moment that I've had has shaped me to who I am today…," Bron added. "Having a rivalry that we have with Golden State, and those years we'll be playing four straight times in the finals, shaped the part of my career."
LeBron James counts his past battles against NBA greats
Having played against numerous greats in the past, LeBron seems confident of taking on the scoring juggernaut, Steph Curry.
Recently, three all-time NBA superstars got inducted into the Hall of Fame, namely, Kevin Garnett, Tim Duncan, and Kobe Bryant. LeBron James has had his time against all three of them.
Bron said, "I have had some battles versus a lot of greats. You look at three of the greatest players ever to play the game (who) just went to the Hall of Fame. And I had battles with all three of them."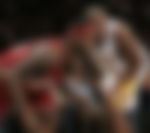 "I've had a lot of battles and a lot of things that's shaped me to who I am today and I appreciate it. And I'm not taking any of those moments for granted," Bron added.
ADVERTISEMENT
Article continues below this ad
Steph has been purely phenomenal this season, having a chance at the 2021 MVP title as well. He's averaging close to 32 PPG and has broken a streak of records over the past few months.
The 33-year-old sensation has closed a number of games this time around; will he be able to close against the LeBron-led Lakers? Or is it the Lakers' chance to take it all once again?
ADVERTISEMENT
Article continues below this ad