Stephen Curry, Klay Thompson and Co Make Dreams of Disbanded High School Come True as Warriors' Misery Worsens
Published 03/10/2023, 5:10 AM EST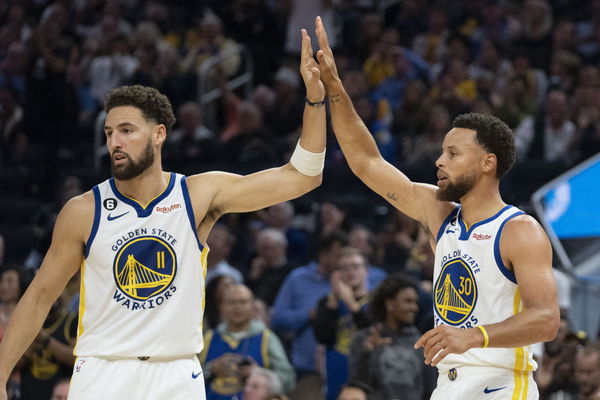 The defending NBA champions, Golden State Warriors are currently struggling to get a win as they lost their straight game in a row. Their current situation has seemingly given the fans a flashback of the time when they were 0-5 two weeks into the 2022-23 season. Amidst these bad times, Stephen Curry, Klay Thompson, and Steve Kerr decided to make others happy. Recently, the aforementioned players fulfilled the dreams of the players from a disbanded high school girls basketball team.
This wasn't the first time Curry has gone out of his way to make a fan's day. The 'Baby-Faced Assassin' has fulfilled the dreams of others on many occasions previously. And this time was no different, as the smile on the faces of the girls after meeting the Warriors stars told the whole story.
Stephen Curry and Klay Thompson inspired the heartbroken team
ADVERTISEMENT
Article continues below this ad
Almost two months ago, the Wichita West High School girls basketball team had to forfeit the remainder of their season as they didn't have five available players to start a game. Players were not available as many of them expressed disinterest in the program since the season started. Moreover, injuries plagued their squad and only a small group continued to practice basketball after school in hopes of returning to the court next season.
Their dedication towards the game grabbed the attention of the Warriors and the Dubs invited the girls to watch their Tuesday night game against the Oklahoma City Thunder. Moreover, they also got to meet Curry, Thompson, and Steve Kerr. This made them ecstatic and prompted some of them to express their excitement.
One of their players, Aunyste Gresham said she couldn't even breathe after meeting the nine-time All-Star. Moreover, she added, "That's an experience I don't think anyone could ever experience."Another player Ty Hardwell, who received a signature from Klay Thompson on her shoe added, "That was truly a once-in-a-lifetime experience"
ADVERTISEMENT
Article continues below this ad
It was a surreal moment for the whole team and will be etched in the girls' memories forever.
The Warriors struggled as Curry got back his touch
The Warriors might not have won a single game since Curry returned to the court, but there were no drawbacks to his performances. In fact, the 4x Champion has averaged 32 points, five rebounds, and 5.6 assists in the past three games. The 'Baby-Faced Assassin' is getting his groove back, but the Warriors still struggle to win. The Warriors currently sit in sixth place in the Western Conference standings with a 34-33 record.
ADVERTISEMENT
Article continues below this ad
Watch this story- "Devin Booker, Stephen Curry, Anthony Davis and other NBA stars with 50-point performances this season" 
What are your thoughts on Stephen Curry and co. fulfilling the dreams of Wichita West High School girls' basketball players? Let us know in the comments below.
Edited By: Pragya Vashisth