'There Was No Give Up': Khris Middleton Reflects on Relationship With Giannis Antetokounmpo After Winning 2021 NBA Title
Published 07/21/2021, 10:28 AM EDT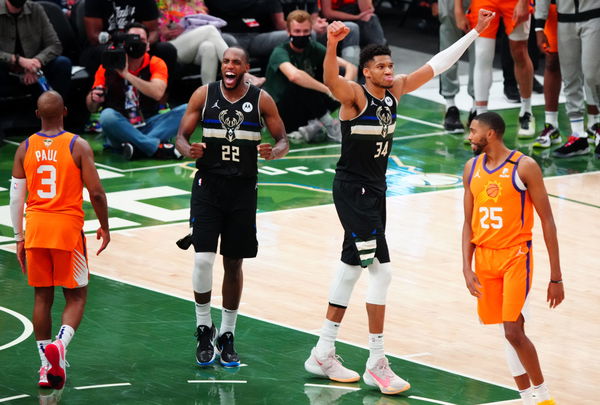 ---
---
The eastern kings, Milwaukee Bucks have made it to the top of the league after a phenomenal Finals victory over the Phoenix Suns. Their offensive powerhouses, Giannis Antetokounmpo and Khris Middleton finally ended Milwaukee's 50-year dry spell of winning a championship.
ADVERTISEMENT
Article continues below this ad
2021 finals kickstarted with the Phoenix Suns earning a 2-0 lead over Bucks. However, Mike Budenholzer and co. made a historic 4-2 comeback to clinch the title in fashion. Well, the credit goes to Milwaukee's star duo Giannis-Khris. They completely rode over Suns' early prominence in the series, averaging a combined 62 PPG in the finals.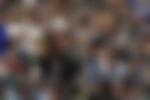 Bucks leading scorer, Giannis Antetokounmpo powered ahead of the Suns with three 40-point games. But, he wouldn't have made it to the trophy, had it not been with Khris Middleton on his side. Khris was in tremendous form this postseason. And the duo was the last one left in the 2021 season with 'champions' against their names.
ADVERTISEMENT
Article continues below this ad
Giannis Antetokounmpo and Khris Middleton: a power-packed offensive duo
Antetokounmpo and Middleton have been through thick and thin since they got together in 2013. From losing seasons to winning the ring, they have stuck together as one of the best pairs in the league.
Middleton shared his thoughts about Giannis and their bonding chemistry in a post-match interview. "We formed a bond, brotherhood. Since our first year, we've been together, we struggled together. There was no give up, there was our motivation to be better, not be embarrassed. Year after year we challenged each other to be better leaders, better teammates."
The Milwaukee Bucks made the correct decision in 2013
Khris Middleton's contributions cannot be weighed in numbers alone. But on papers, he averaged 23.9 points, 7.7 rebounds, and 5.1 assists in this postseason. Moreover, he added the right amount needed to convert Giannis' monstrous performances into victories.
ADVERTISEMENT
Article continues below this ad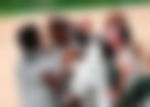 The Milwaukee Bucks had put in effort and patience in two youngsters in 2013, and they have finally reaped the benefits. Giannis and Middleton have grown as players and paved a hardworking journey to eventually become NBA champions. It is a tale to be told and written in NBA's history books for future fans to know.
WATCH THIS STORY: Milwaukee Bucks vs Phoenix Suns Game 3 NBA Finals Highlights 
ADVERTISEMENT
Article continues below this ad