Top Five Teammates from Kevin Durant's Career So Far
Published 09/21/2021, 5:44 AM EDT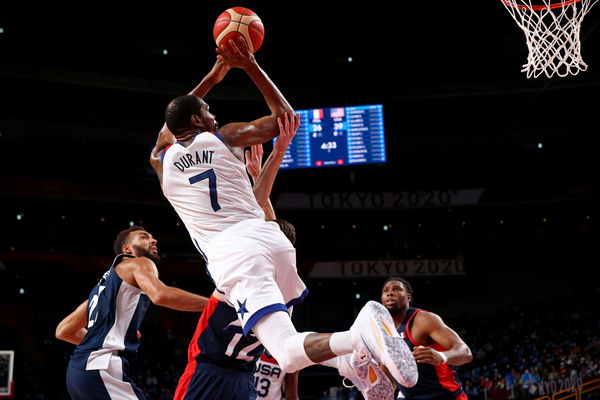 The 2-time NBA champion Kevin Durant is considered an evergreen player in the league. A step-back, drive-in, and dunk shot is what fans drool over when Durant is on the court. The star forward is turning 33 years old this year, and his charm has shifted to the Brooklyn Nets.
Durant is an 11-time NBA All-Star, 2-time Finals MVP, 4-time NBA scoring champion, and has been named in the All-NBA First team six times. His resume is filled with accomplishments and superstar performances.
KD has played for Oklahoma City Thunder, Golden State Warriors, and now he's playing alongside Kyrie Irving in Brooklyn. Let's take a look at his best teammates through his years in the NBA league.
ADVERTISEMENT
Article continues below this ad
Stephen Curry
Golden State Warriors produced one of the finest player combinations. Kevin Durant joined Steph Curry in 2016 and they together won two NBA championships (2017 and 2018) at the peak of the Warriors' legacy. Steph and KD complimented each other on the court and made their game an effortless display of class. Moreover, Durant was named the Finals MVP each time the two players won a ring together.
James Harden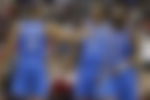 Back in his days at Oklahoma City Thunder, James Harden was the third-best player on the team after Kevin Durant and Russell Westbrook. He played from the bench and majorly contributed to Thunder's success becoming NBA's Sixth Man of the Year in 2012. KD and Harden have met again in Brooklyn Nets, forming a Big 3 with Kyrie Irving. This time, the Beard is a bigger name with an MVP award, 9 All-Star appearances, and 3 scoring titles to his name. The teammates have reunited and the two will be dominating the east together.
Russell Westbrook
Recently, while picking his top teammates, Durant surprisingly missed out on the veteran guard Russell Westbrook. However, Westbrook was a key counterpart in KD's prime days in the league. At, Oklahoma City Thunder, Durant, and Westbrook played as starters for seven years together. Through those seasons, the duo carried their franchise to their first Finals appearance as well.
Draymond Green
ADVERTISEMENT
Article continues below this ad
Rivalry is surely their highlighted relationship, but Draymond Green was one of the best teammates that Durant ever had. GSW stars secured championships and asserted their talent while playing on one team. KD's ball-handling and Green's defensive eye came together to form an impressive package. Later on, the teammates had a heated moment on the court that reportedly became one of the key reasons for Durant's exit from the Warriors.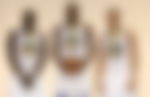 Klay Thompson
ADVERTISEMENT
Article continues below this ad
A significant shooter of all time, Klay Thompson became one of the best teammates that Kevin Durant could ever have. Steph, Klay, and KD formed a star trio for the Dubs Nation and won their share of dominance in the league. While the Warriors for out for 3 championships during the time, Klay and KD could only grab two due to injuries in the 2019 NBA Finals. Thompson, a 5-time All-Star, proved to be a pure shooter in Durant's gameplay that eventually led to victories for them.
WATCH THIS STORY: LeBron James, Russell Westbrook, and Other NBA Stars Who Made an Appearance at Anthony Davis' Wedding