WATCH: James Harden and Kyrie Irving's Frustrations With DeAndre Jordan Could Be Reason Behind His Departure
Published 09/08/2021, 1:06 PM EDT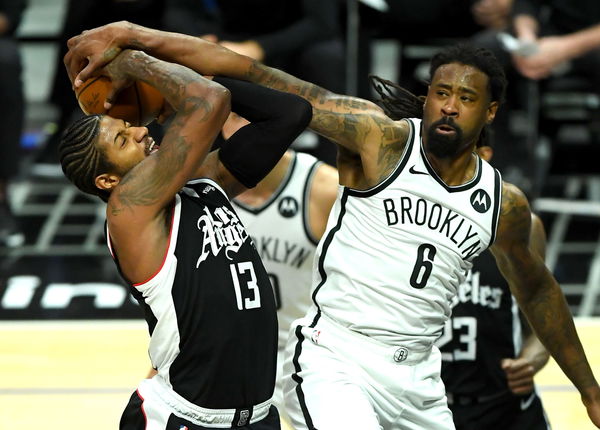 ---
---
"The Lob. The Jam." This famous piece of commentary echoes through every single Clippers fan since 2012. Despite not winning an NBA title, Chris Paul, Blake Griffin, and DeAndre Jordan entertained the Clipper nation, for a long time.
ADVERTISEMENT
Article continues below this ad
Jordan, especially, dunked his way through many players during his time with the franchise. Brooklyn Nets saw something in him and brought him to the franchise after not having productive spells with previous teams. However, things have not worked out well for the team as James Harden and Kyrie Irving may have answers to that.
ADVERTISEMENT
Article continues below this ad
DeAndre Jordan cannot dunk anymore!
Despite signing for the Nets, the center has not played well for the franchise. Even though a lot was expected, there seem to be some issues regarding his dunking ability. Notably, he missed a few lobs last season when Kyrie and Harden put them on a plate for him to dunk it in. While some may say that he is not the player he used to be while others may have a different opinion.
Sharing his name with the GOAT, Jordan's immaculate dunking ability is well known. His infamous throw-down on Brandon Knight sent shock waves through the arena. The ability was there for people to see. A big center with great vertical ability. He was destined for greatness.
But, things have taken a U-turn in Brooklyn.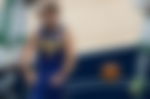 Jordan moves on from the franchise
Although there are theories out there suggesting Harden and Irving's involvement in getting out, those rumors are not to be believed.
ADVERTISEMENT
Article continues below this ad
Ever since he left the Clippers, things have not gone well for the center. Injuries have dampened his hopes of getting back to what he was capable of. During the first season with the Nets, he averaged 8.3 points and 10 rebounds per game. However, the last NBA season did not work well for the center. The numbers dropped as he averaged 7.5 points per game. Nonetheless, those rebounds declined as well after grabbing just 7.5 rebounds.
This is the key.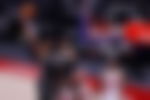 The inability to catch the ball on the lob faded away as DeAndre moved on. Now, the center has joined the Lakers to land his first NBA title. With LeBron James' passing ability, Jordan would love to get behind the basketball to do what he is famous for – dunk!
ADVERTISEMENT
Article continues below this ad
WATCH THIS STORY- Michael Jordan's Rare Heated Moments with Reggie Miller, Danny Ainge and Others