What Does the Memphis Grizzlies Starting Lineup Look Like for the 2021-22 Season?
Published 09/09/2021, 7:18 AM EDT
---
---
The Memphis Grizzlies, a relatively young roster, is heading into the 2021-22 season. Their last season led by 22-year old Ja Morant was a highlight for the franchise as they advanced to playoffs for the first time since 2016-17.
ADVERTISEMENT
Article continues below this ad
Grizzlies ended their 2020-21 regular season at the eighth seed with a record of 38-34. As they headed for the Play-ins, Steph Curry fans shook after Grizzlies defeated Golden State Warriors to reserve a berth in the postseason. However, Taylor Jenkins' team lost to Utah Jazz in the first round after a five-game series.
As the next season is nearing closer, the Grizzlies will have to step up against bigwig teams like Lakers and Warriors. Let's take a look at Memphis Grizzlies' predicted starting lineup. It hasn't changed much from last year, except Steven Adams is coming in place of Jonas Valanciunas at the center.
ADVERTISEMENT
Article continues below this ad
Frontcourt starters for Memphis Grizzlies
Kyle Anderson (Shooting Forward)
As far as Kyle Anderson's role in Grizzlies is concerned, it has been up for debate in the past year. His versatility, defense, and playmaking skills are his strong areas. However, with the absence of Jaren Jackson Jr. last year, Anderson had to do a bit of everything. We're yet to see how Kyle Anderson plays out for Grizzlies with Jackson on his side.
Jaren Jackson Jr. (Power Forward)
The much-awaited power-packed return of Jaren Jackson Jr. is still in progress. His past few years in the league have been injury-plagued and Jackson was not in complete control of his game. The 6-11 forward averaged 14.4 points and 5.6 rebounds during 2020-21. Jackson's comeback is the only way Grizzlies could get through the upcoming season with potential success.
Steven Adams (Center)
After a trade deal between New Orlean Pelicans and Memphis Grizzlies, the latter acquired Steven Adams and gave away their star center Jonas Valanciunas. Memphis fans are doubtful about this decision considering Valanciunas was a key piece in their success. However, they'll witness a lot of defense and screen-setting from Steven Adams. All eyes will be on him and what he offers to the table.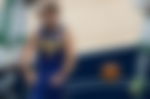 Backcourt starting lineup
ADVERTISEMENT
Article continues below this ad
Ja Morant (Point Guard)
Memphis Grizzlies point guard Ja Morant is the most essential component despite his mere 2-year experience in the league. The 2020 Rookie of the Year has been phenomenal with his athleticism and drive-ins. The 2020-21 season was a highlight-filled year for Ja and he continues to grow as a potential star player. He has stepped up on several occasions and led the Grizzlies to their first playoffs after a dry spell in the past few years. Fans will be excited to watch Ja back in action. Let's see where he takes his team this time.
Dillon Brooks (Shooting Guard)
ADVERTISEMENT
Article continues below this ad
Brooks is known for his consistency alongside Ja Morant in the backcourt. His last season was a green signal in his NBA resume as Brooks' defense helped Grizzlies run to victories. Other than his defense, Brooks showed improvement on the offensive end as well. He averaged 25.8 points, 4.2 rebounds, and 2.2 assists during the 2021 postseason.
WATCH THIS STORY: Reliving Some of Kobe Bryant's Ideal Dad Moments With His Daughters