Will Michael Jordan Be Always Unreachable for LeBron James After NBA 2021 Playoff Exit?
Published 06/04/2021, 3:30 PM EDT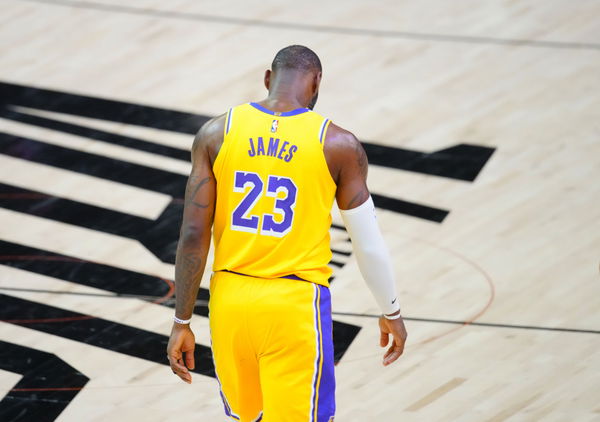 ---
---
It's a day that goes in the history books as a big black mark for LeBron James. The Los Angeles Lakers faced a tough elimination from the 2021 postseason after falling short against the Phoenix Suns. And, we have the GOAT conversation back on the table, leading with LeBron James vs Michael Jordan.
ADVERTISEMENT
Article continues below this ad
The last time LeBron James was 3-2 down in a playoff series was in ECF Game 6 back in 2018. In contrast to what his fans witnessed last night, prime Bron had dropped 46 points with a 51.5 FG% to force a Game 7 against Boston Celtics. Well, we aren't expecting it to be the same after years in the league, but was this season's playoff exit a GOAT-like aura?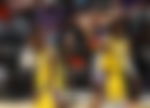 Michael Jordan and LeBron James have scripted their sparkly careers in different phases of the league and stamped it as their own. And, to date, people draw comparisons between the two. The doubt always commences at whether Bron is as good as Jordan, or even better.
ADVERTISEMENT
Article continues below this ad
It's not just a matter of championships
Michael is a six-time champion, while LeBron has 10 Finals appearances in his career, of which 4 were converted into titles. And so the debate continues.
Bron fans had one argument always in hand that LeBron James has never been thrashed in his first round of Playoffs in 18 years. Well, that argument no longer stands valid in favor of him with Lakers' embarrassing defeat to the Suns. Michael has been there three times in his initial career during first-round losses in 1985, 86, and 87 playoff seasons. The difference is that from there on; it was only a rising curve for the Bulls star.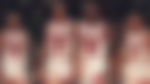 He went against tough opponents like the Bad Boy Pistons in the 1988 conference semifinals. The prime Detroit Pistons at that time ripped apart the Chicago Bulls 4-1 in that series and ended their playoff run very soon. MJ continued to experience defeats for the next two years as well to the same team but never looked back from thereon.
To name a few, Larry Bird, Karl Malone, Isiah Thomas, and many more were hurdles to Michael's historic success in the game. Nevertheless, as and when the time came, Michael was always prepared to throw it back at them.
LeBron James found bigwigs in his teammates
The 4-time champion LeBron James hasn't been far from tough competitors when he faced Stephen Curry in Finals for an utmost number of times. As part of the Cavaliers, things came difficult for the King.
Yet, the conversation boils down to not only to whom they have locked horns with, but also their partners in crime. While MJ has been a loyal Bulls player throughout his career, Bron has switched franchises and hunted championships. From Miami Heat to Cleveland Cavaliers and then Los Angeles Lakers, all big guns fell at Bron's feet. Twice in his career, the Akron boy has created Big threes and yet again a powerhouse duo with Anthony Davis in a purple-gold jersey.
WATCH THIS STORY: 5 Epic Moves by the Magician, Michael Jordan
Do we remember Michael Jordan hopping through teams?
For MJ, it was Scottie Pippen all along the way and he practically grew his team to be capable of winning six championships in the league. That's where leadership styles have clearly varied for the two bigwigs.
ADVERTISEMENT
Article continues below this ad
Coming back to today's times, LeBron won a championship at 35 years of age. However, after witnessing LeBron's head-down exit from Staples Center yesterday, it seems like he's pulled out of the GOAT race.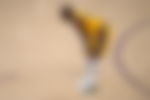 Few questions will linger on for a fair time in the future. Bron has been dominant in postseason numbers, but is it all worth it after a huge defeat? Had Michael Jordan been there, would he average less than 25 PPG in a series that was a do-or-die moment for his team?
ADVERTISEMENT
Article continues below this ad
When the team's back's against the wall, Jordan has always stood up to perform. He has secured victory in every Finals appearance in his career and that proves it more than anything. Yes, LeBron James is one of the greatest basketball players in NBA history, but there is much more to becoming a Michael Jordan.