'Ya Mans Admittedly Checked My Numbers': Bradley Beal Indirectly Takes a Dig at Steph Curry
Published 05/11/2021, 6:00 AM EDT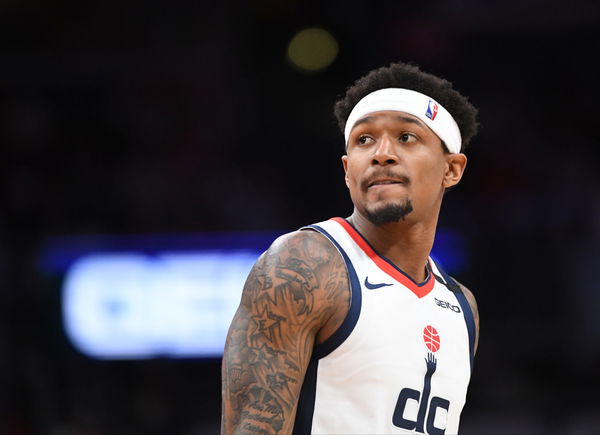 ---
---
This year's NBA scoring title is going down the wire. Pundits and fans alike are applauding Stephen Curry and Bradley Beal for their offensive exploits this season. Curry has been one of the most exciting players, carrying the Golden State Warriors on his back. Seeing him break records has become customary.
ADVERTISEMENT
Article continues below this ad
Notably, the sharpshooter scored 49 points in 29 minutes in his game against Oklahoma while also taking his three-point tally to 327. That is staggering.
In the meantime, Kent Bazemore took a sly dig at Curry's major rival for the scoring title, Bradley Beal.
ADVERTISEMENT
Article continues below this ad
Taking the game to Stephen Curry
Beal replied to this in the best way possible, by going on a Twitter rant.
@24Bazemore it's funny you say that because ya mans admittedly checked my numbers before the game, but IM CHASING!!! Shut yo ass up!

— Bradley Beal (@RealDealBeal23) May 11, 2021
Later, Bazemore played down his comments by describing it as a joke and that there is nothing malicious about it.
"It was 11:30 in the morning, 12 o'clock, I was off my Bulletproof Coffee feeling good, enjoying seeing you guys' faces, and that's kind of what it was," Bazemore explained. "I don't know, man. I don't think I would have reacted that way. But to each their own; he's a great player, played against him for a long time, he's been getting better every year, so [I wish him] a speedy recovery. I hope that helps." 
Bradley Beal has had a strong influence over the years
ADVERTISEMENT
Article continues below this ad
On June 28, 2012, Washington Wizards drafted Beal while slowly becoming their key player. But because of his niggling injuries, he has only played 82 games in a season just twice in his entire career. A massively underrated mid-range shooter, Beal is averaging a career-high 31.4 points this season with an effective field goal percentage of 53.5.
Although the Wizards are ranked 10th in the Eastern Conference, they are hopeful of reaching the playoffs.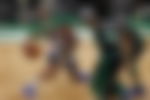 Along with Russell Westbrook, Beal has found a perfect player to push Washington's quest for a championship. Curry is leading the scoring race with 31.9 points per game as Beal continues to haunt him down. Meanwhile, Russell Westbrook has broken the long-standing record of Oscar Robertson by claiming his 182nd triple-double in his career. The NBA regular season is reaching its anticlimax. Do you think Bradley Beal can acclaim his first-ever scoring title?
ADVERTISEMENT
Article continues below this ad
 READ MORE- Will Giannis Antetokounmpo Play Tonight? Milwaukee Bucks vs San Antonio Spurs- Predictions, Injury Updates & Lineups