"50 is 50": Utah's Donovan Mitchell Talks Like Kobe Bryant After Victory Against Denver Nuggets
Published 08/24/2020, 6:30 AM EDT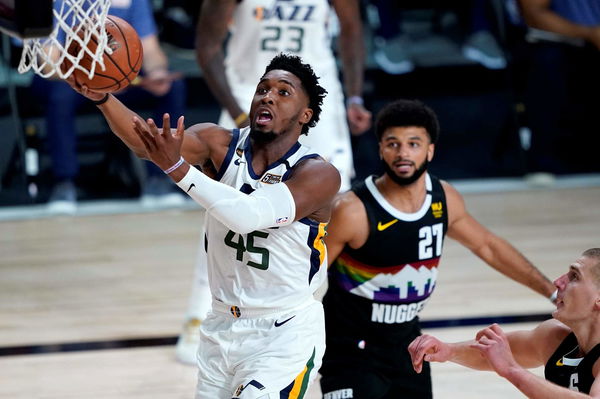 ---
---
Sunday night fixtures have by far been the most exciting ones this postseason. First Mavericks sealed their win against Clippers to even the series after Luka Doncic knocked down a buzzer-beater. And now it's Donovan Mitchell with his 'A-game', taking forward Utah's series lead to 3-1 in Game 4.
ADVERTISEMENT
Article continues below this ad
It's revenge time for Utah Jazz. Denver Nuggets have outperformed them each time in the regular season as well as the seeding games. But Utah is looking to snatch the final bit of the league from their opponents.
Last night was terrific for Utah and the best player on the court was indisputably Donovan Mitchell. He knocked 51 points and seven assists that led his team to a 129-127 victory over Nuggets. Jazz will be looking forward to just another win to seal the series and make it to the second-round playoffs.
ADVERTISEMENT
Article continues below this ad
Nuggets' Jamal Murray was also holding his 50-point game to help his team. The difference was, Jazz put in a team effort with Jordan Clarkson and Mike Conley scoring 24 points each, and Rudy Gobert with a double-double (17 points and 11 rebounds).
Utah's Donovan Mitchell says, only winning is on his mind
Mitchell was a pure star against Nuggets. He was making buckets in the most effortless fashion and scored a 55.6% from the field. While three-pointers aren't a natural phenomenon for the Jazz, Mitchell was out there making 4 out of 7 shots count from the deep.
Moreover, he was living on the free-throw line, dropping 17 of the 18 attempts that he made. It was a class performance and also a record-setting night for Donovan.
After Mitchell's staggering game, he is one of the few in NBA history alongside Michael Jordan and Allen Iverson with multiple 50-point games in playoffs. On hearing this, Donovan completely sounded like Kobe Bryant in the post-match interview. He just wants to win and the records will keep coming in.
"They (MJ and Iverson) won. I haven't done anything yet. All we did was win Game 4. 50 is 50, but we're looking to close the series out. I'm honored to be in that category and I'm humbled and blessed but, we still got one more game left. That's really what's on my mind. We fought hard and we knew we were going to come out and that was a big game."
All those words sound synonymous with 'Mamba Mentality'. It's exactly like Kobe talking after a brilliant individual effort. Moreover, such a game on the legend's birthday. Donovan has gathered some massive respect in these playoffs. He just plans on taking away this series and nothing else matters.
Let's see what they have in the store for Game 5!
ADVERTISEMENT
Article continues below this ad
ADVERTISEMENT
Article continues below this ad