An Insane NBA Record Only Held By Larry Bird, Wilt Chamberlain and Bill Russell
Published 05/29/2020, 6:30 PM EDT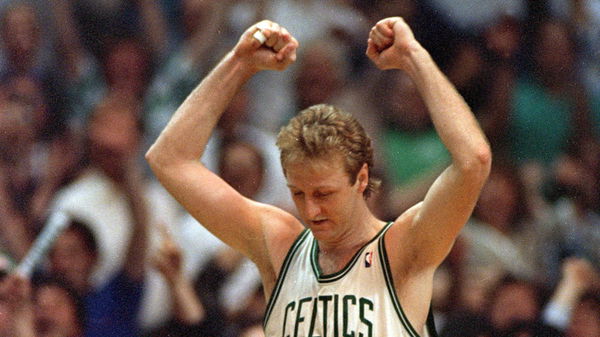 ---
---
Michael Jordan has broken numerous records in the NBA history, but falls short of one held by Larry Bird. Bird was the face of Boston Celtics for a long time. In 1986, he became the third and last player to win three straight MVPs. Surprisingly, Jordan never made it to that record list.
ADVERTISEMENT
Article continues below this ad
The first player to win three consecutive MVPs was an 11-time NBA champion, Bill Russell. He was loyal to Celtics his entire career. In addition to several victories, he won the title twice as a coach  Russell was named the MVP from 1961 to 63.
The man second to Bill was Wilt Chamberlain, who reached this record list in 1968 while playing for the Philadelphia 76ers. He is considered one of the greatest NBA players of all time. And guess what?
ADVERTISEMENT
Article continues below this ad
Larry Bird comes after these two legends to clinch three MVPs consecutively. The 12-time NBA All-Star reached this feat in 1986. In that season, Bird averaged 25.8 points, 9.8 rebounds, and 6.8 assists per game.
Michael Jordan didn't make it to this NBA record even after achieving immensely as a player
The Celtics were having a tremendous phase in the 80s. They won three championships and made it to several finals. The main competitor for the franchise was Magic Johnson's Lakers at that time. It was only in the 90s that the Chicago Bulls ascended as NBA favorites with the likes of Michael Jordan.
Boston Celtics won the 1984 and 1986 title, with Larry becoming the finals MVP both times. They couldn't clinch the 1985 title after losing to their sole rival, Lakers, in the playoffs.
ADVERTISEMENT
Article continues below this ad
Even after Michael Jordan being an NBA champion six times and each time the finals MVP, he couldn't take away this record from Larry Bird. In addition to this, they were part of a fierce rivalry between franchises in the 90s.
Since the 80s saw Celtics as the dominating ones, they had to be the major competitor for the Bulls. Despite having such fierce force, Michael made it to a lot of titles but failed for the third straight MVP title in 1993.
ADVERTISEMENT
Article continues below this ad