Anthony Davis Describes How Frank Vogel's Coaching Helped Lakers Achieve a Successful Season Campaign
Published 10/07/2020, 10:37 AM EDT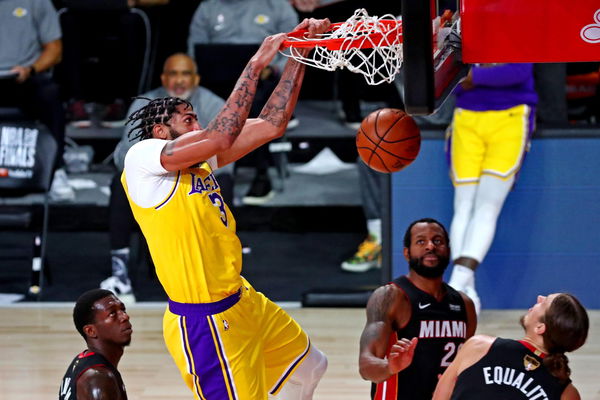 ---
---
Los Angeles Lakers have come this far in the season after numerous incredible performances throughout the year. Despite having some tough offensive powerhouses like LeBron James, Anthony Davis, and Dwight Howard on the team, Lakers were the best on defense as well.
ADVERTISEMENT
Article continues below this ad
Frank Vogel, being a defense centered coach successfully developed the Lakers. They proudly stand as one of the best in that category. While teams like Rockets started finding a defensive streak at the season's latter stages, Davis reveals that Vogel was on them from day one.
LeBron James and Co. are at the brink of winning the championship. The Finals series stands at 3-1 against a tough bunch of players from Miami Heat. Just one victory more and Lakers will hold yet another title to their name.
ADVERTISEMENT
Article continues below this ad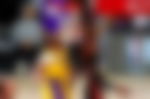 Davis found a difference in Frank's coaching in comparison to New Orleans
During Game 3s post-game interview, AD highlighted the defense aspect of the team and how they built on it. "He (Frank Vogel) got on us day one about defense. Guys know he's a defensive-minded coach, and we know that if we want to win, we're going to have to play defense."
AD himself has seen significant improvement in his rebounding and defensive numbers after wearing the purple-gold jersey. He averaged 9.3 rebounds and 2.3 blocks per game in the regular season. Moving forward he simply kept getting better. Davis is the most crucial player in the paint for the Lakers at present times.
After coming from New Orleans, the defense played a significant role for Davis under Vogel's coaching. "Obviously offense, you can look at teams, you know, when I was in New Orleans, Alvin [Gentry] used to say it all the time, he used to preach defense. I had the best offensive team, we would score 130 and would never get past the second round of the Western Conference because we didn't play defense."
Lakers take pride in their defense, helped them get this far in the season
ADVERTISEMENT
Article continues below this ad
Lakers always had an edge above their opposition in terms of defending their way to victories. Even during the Finals against Heat, Lakers' blocks and steals played a major role in dominating the first two games in particular.
"You hear the cliche all the time, defense wins championships. In order for you to win, you have to defend. That's what we try to do," AD added. "He told us from day one that we're going to being a defensive-minded team because that leads to fast-break points. We want to run, we want to get stops and run and the only way you can run is if you get stops."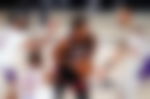 "So guys just kind of bought into it. We trust him and we trust each other, we can trust each other on rotations. Guys are talking, and that's why we get so upset when we have defensive breakdowns, not more so offensively. But defensively, because we know what we're capable of doing. Guys take pride in their defense. You know, we work on defense every day in practice. We for sure are going to do defense because guys want to be better at it, and we know it's going to help us get to our goal."
ADVERTISEMENT
Article continues below this ad
The defense strategy has worked well for the Western champions who stand a game away from winning this season. Jimmy Butler and Miami are making it tough for them to grab it that easily. But as far as winning is concerned, the Lakers are doing it quite well.