How Kobe Bryant Used His Grasp of Multiple Languages to Trash Talk and Get Into the Mind of His Opponents
Published 07/27/2020, 7:00 PM EDT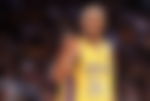 ---
---
Trash talking has become a part of the NBA business. It's an age-old technique of getting into the headspace of opponents. Kobe Bryant was infamous for his trash-talking tactics. Often, he even admitted to controlling the game physically and psychologically.
ADVERTISEMENT
Article continues below this ad
Kobe's multilingual talent has been fascinating for him on the court. He found his own way to get going against players from different countries. Well, for players like Jusuf Nurkic and Luka Doncic, Mamba's hidden talent came as a surprise.
Jusuf Nurkic couldn't believe his language coming from Kobe Bryant
ADVERTISEMENT
Article continues below this ad
Last year, Blazers center Nurkic had a hilarious story to share on SportsCenter about the time when Kobe trash-talked with him in Bosnian.
"He's shooting the free throws (Kobe), and I'm out there like: 'Nobody can even touch him, how is that possible?' Whole night he was shooting free throws. He actually said a word in my language," Nurkic narrated.
"I was like, 'I didn't really hear right. He can't speak my language!' Then we go back and forward, and he goes again to [shoot] free throws. And he repeats that! It was [a] curse word! I was like, 'I'm pretty sure he said that!' After a couple years in the league, he was preparing himself and he plays against some teams he will try to learn a little bit about every player he plays."
Kobe and his multilingual mind games
Kobe really believed in playing mind games with his opponents. Present young star Luka Doncic was nothing more than confused when a few years ago Kobe started saying something in Slovenian during the match. This happened when the Lakers legend was watching Mavericks play along with his daughter from the sidewalk.
"I can't say that. It was like someone was talking in Slovenian. I turned around, I saw Kobe. I was like, 'What is going on?'," Luka mentioned in an interview on 'The Jump'. "I was surprised. I was shocked."
Moreover, many a time, players and fans heard Kobe speak in European languages like Italian and French. Well, his versatility surprised most who crossed his path, whether it be on the court or off it.
ADVERTISEMENT
Article continues below this ad
Source:
YouTube – Luka Doncic on NBA 'The Jump'
ADVERTISEMENT
Article continues below this ad