"Based on That B***s*** Criteria": Lakers Legend Picks Giannis Antetokounmpo as NBA MVP
Published 07/29/2020, 7:00 AM EDT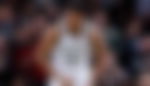 ---
---
The NBA has somehow made this year's MVP race less exciting by ending it right away. If we look at the top contenders LeBron James and Giannis Antetokounmpo, then things are becoming heated up amongst their fans.
ADVERTISEMENT
Article continues below this ad
Amongst those disappointed about this new change is former Lakers big man, Shaquille O'Neal. Sitting alongside NBA on TNT crew, he had much to say in favor of Giannis winning his back-to-back MVP crown this year. That would make him the 12th player in NBA history to achieve that feat. Moreover, the Greek Freak is only 25 years old.
Shaquille O'Neal remembers his competitor Steve Nash in a similar race from the past
ADVERTISEMENT
Article continues below this ad
Shaq was reminded by his time in 2005-06 when Steve Nash bagged a similar achievement. Well, the Lakers legend wasn't very happy about that, but he managed to slide that in the MVP discussion on the panel.
"Based on the new criteria that somebody somehow made up; because there was a guy that beat me (Nash) out twice. And they said he beat me out because his record was better than mine."
The league has planned on making this time as the deciding factor of the awards, and that will include all 30 teams. Shaq terms it as a "b***s*** criteria" but still goes for Giannis with due respect for LeBron.
"So based on that b***s*** criteria that y'all made up, Giannis is 53-12. And LeBron is the best player in the world, he's 49-14. So based on this new criteria, you gotta give it to Giannis."
Giannis Antetokounmpo is Shaq's MVP choice, considering changes in criteria
Giannis has actually pulled up a team of the East from a basic level to becoming a season favorite. He is third in the averaging points per game as well as rebounds this time. Moreover, the man has been pure talent throughout the season.
Not demeaning what LeBron offered on the floor and the reflection of his experience in the game, but now Shaq has definitely made up his mind.
"What I respect about Giannis is he's saying 'Okay Bron I respect you and all that, but I don't want to join those super teams I want to do it by myself'. And they live in Milwaukee. You put them with coach Bud, the kid plays hard, he's very exciting to watch and he's doing it the right way. I'm giving him super respect for that, so he gets my knot."
ADVERTISEMENT
Article continues below this ad
What do you feel about this title considering the new criteria in mind?
Source:
ADVERTISEMENT
Article continues below this ad