Dallas Mavericks Head Coach Reveals His Expectations from Luka Doncic
Published 07/28/2020, 10:24 AM EDT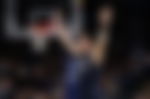 ---
---
With the resumption of the league, NBA fans are looking for the status of players and teams after a long off-season phase. Dallas Mavericks, currently holding the seventh position in the Western Conference, are done with their two scrimmage games so far. Fortunately for them, their star player Luka Doncic is looking great despite months of no action.
ADVERTISEMENT
Article continues below this ad
Most of the analysts are quite impressed with what they see in the 21-year-old. Luka has created quite an impact in the league, and this season has been a further validation of that.
Mavericks coach talks about his expectations from Luka Doncic
ADVERTISEMENT
Article continues below this ad
Mavericks' head coach, Rick Carlisle, has shown similar confidence in his lead player. In an interview tweeted by Dallas Mavericks recently, Rick highlighted on Luka's growth as a player and also what they expect from him as a team.
"Just an overall refinement of his game, greater experience. He's become the leader of the team on the floor. A greater overall understanding of what we need from him, which is basically that he needs to do a little bit of everything."
"He's become the leader of the team on the floor." – Coach Carlisle on @luka7doncic's growth this season 🔮#MFFL #BringingSportsBack | @ATT pic.twitter.com/ID7Cgwb08J

— Dallas Mavericks (@dallasmavs) July 28, 2020
"A little bit of everything" is what Rick says, which directs how the management wants him to develop as an overall package for the team.
"He's got to create for himself, he's got to create for his teammates. He's going to have to guard good players. We need him to attack the rim. We need him to make three-point shots. You know, we need him to direct traffic, make play calls. I mean, it's everything."
Is Luka the Most Improved Player of the Year?
Speculations these days suggest Luka may be in the race for Most Improved Player of the Year. But the coach described that title as crowded, with both Brandon Ingram and Domantas Sabonis also in the running. At the same time, he does consider his young star as one of the great contenders for this award.
"Somebody in speculation about NBA awards had him as Most Improved Player…If you look at his stats and he's established this year you know, as a starter, in the All-Star game and everything else, it's not a stretch."
It's not surprising that the Mavericks franchise depends on Luka's talent immensely. Since the time he stepped into the league, he has improved as a player and became a renowned name in no time.
Last season he was averaging 21.2 points per game and this year he whipped up to a nice 28.7. While many deny his skills on the defensive end, it may take just a couple of years for him to excel in that aspect as well.
What is the Dallas Mavericks up to?
In the last scrimmage game against Indiana Pacers, Mavericks lost 118-111 after a good start in the Lakers game.
Pairing up with Seth Curry, who seemed in quite a good form during the scrimmages, Dallas will be looking to climb the ladder in the conference standings. They will be up for their first regular-season game versus Beard's Houston Rockets on August 1.
ADVERTISEMENT
Article continues below this ad
Source:
ADVERTISEMENT
Article continues below this ad