Clippers VS Lakers: Chris Bosh, Carmelo Anthony and Others Showed Up For Nail Biting Matchup
Published 07/31/2020, 12:58 AM EDT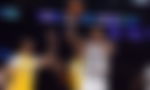 ---
---
The adrenaline rush is high, with the NBA season finally on the go! It's the Los Angeles Lakers vs LA Clippers making their way into the league resumption. Well, it was a star-studded match on the sidelines as well, with Damian Lillard, Carmelo Anthony, and others as spectators.
ADVERTISEMENT
Article continues below this ad
It wasn't exactly an expected turn of events for the season favorites, who stepped on their opponents, LA Clippers, for a 103-101 victory. The expectation was way different from the match, and as it turned out, Clippers kept hold of their weak lineup for the day.
LA Clippers put up a close show despite a disintegrating lineup
ADVERTISEMENT
Article continues below this ad
Lakers' big man, Anthony Davis, began his campaign with massive 14 points in a quarter. His explosive play made it his 34-point game by the end of it. He's been a powerful force today while his partner, LeBron James, wasn't at his best.
With the absence of their quarantining trio, Clippers abbreviated the league with a dull roster but nevertheless an impressive performance.
The contenders for the best Sixth Man this year, Lou Williams and Montrezl Harrell, were definitely missed. The offensive responsibility with such a thin bench strength lay on the Bigs- Kawhi Leonard and Paul George. The tension was prominent when Kawhi was benched early on in the game for offensive fouls concerns.
Big shots like Chris Bosh witnessed the thriller match today
Over the course of the match, the Klaw filled in for the missing ones with his grand offensive show of 28 points.
The Clippers didn't have the key bench duo today to share the offensive load, but Kawhi and Paul did their job. The highlight has been how brutal the Clippers were against LeBron and troubled him to a large extent out there. It's been disappointing for him recording only 6 points till halftime.
A big match to celebrate the return of the league and it's become a huge affair with quite a lot of players watching it in the bubble. The likes of CJ McCollum, Chris Bosh, and DeMar DeRozan were also there witnessing the first day of season return. They must have surely enjoyed the nail-biting face-off of the two Los Angeles teams.
As far as the game is concerned, all in all, a lot of whistles in this match. The referees have been on their toes throughout, with a vast number of fouls and free throws at every end.
We must say, an incredible unraveling of the league took place today!
ADVERTISEMENT
Article continues below this ad
Source:
Twitter  – Dave McMenamin, NBA stats
ADVERTISEMENT
Article continues below this ad