"Best Starting Five in the NBA" Paul Pierce Declares Boston Celtics as Major Threat in East
Published 06/28/2020, 5:00 AM EDT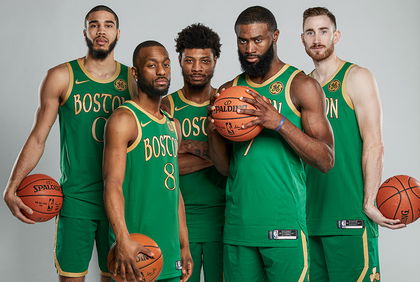 ---
---
The NBA is ready for a comeback season from the end of July in Orlando and the action is getting back. The predictions and analysis on the basis of the prior season have begun. Milwaukee Bucks are leading the charts in the Eastern Conference. Former Boston stars, Paul Pierce and Kendrick Perkins assure Celtics to pose a major threat to the Bucks.
ADVERTISEMENT
Article continues below this ad
Boston Celtics are standing third in the Eastern Conference with a record of 43-21. On the other hand, young star, Giannis Antetokounmpo has pushed the Bucks to the top with sensational performances. They are going strong in the league so far and are considered as the season favorites alongside the Lakers.
But according to former forward, Paul Pierce, Celtics hold the potential of being fierce competitors for the top team without any biases.
ADVERTISEMENT
Article continues below this ad
On Friday's episode of ESPN's 'NBA Countdown', he mentioned, "Not because I played for Boston. When you look at their roster, you know, Jayson Tatum started playing like a superstar before the work stoppage. In my opinion, Boston has the best starting five in the NBA."
Kendrick Perkins is also impressed with Boston Celtics roster
ADVERTISEMENT
Article continues below this ad
Pierce is not the only one fancying the lineup of Celtics that includes star Jayson Tatum. The other day, Kendrick Perkins also gave a detailed breakup of their first five. And it looks like he's quite impressed.
"I've got to roll with the Boston Celtics," Kendrick told SportsCenter. "They have one rising star in Jayson Tatum who's playing at an extremely high level. They have Kemba Walker who's one of the best point guards in the league…Then you have the best two-way players Jaylen Brown."
Moreover, Gordon Hayward is 'finally healthy' now. So as per the former NBA champion, he is good to drop 30 points in a night. The 'heart and soul' of the team, Marcus Smart also adds up to the talented lineup. Perkins approves of the depth in their roster and admits that they are very 'dangerous'.
ADVERTISEMENT
Article continues below this ad
Well, will the Celtics make it to the finals going past the Bucks?