"Can I Have Your Shoes After the Game?" Steve Nash Reveals a Fanboy Moment with Michael Jordan
Published 05/12/2020, 11:03 AM EDT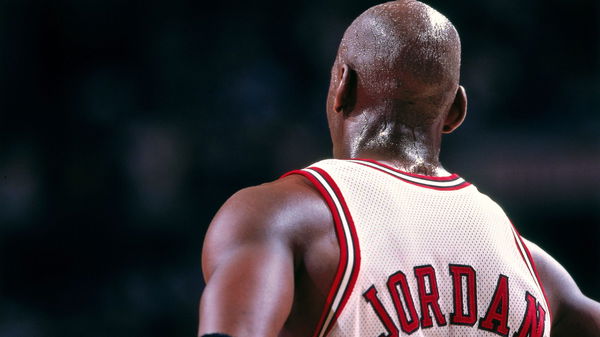 ---
---
On a recent episode of 'NBA Together with Ernie Johnson', former Pheonix Suns point guard, Steve Nash was invited. With the new docuseries on Michael Jordan, The Last Dance getting the viewers excited, various players have been talking about their MJ moments.
ADVERTISEMENT
Article continues below this ad
Well, Steve also has his from his rookie years. He expressed his admiration for the Bulls star and an interesting story from his young days.
There have been countless players who have looked up to Jordan as a role model. He has been an inspiration to many and Steve says his young days in the NBA were the same. Also, he hero-worshipped the legend at every stage, even as a competitor.
ADVERTISEMENT
Article continues below this ad
"When I joined Lakers at the end of my career, and a lot of young players on our team, you can see the way they felt about Kobe Bryant. They have grown up idolizing him and that was me with Michael." Steve told Ernie on NBA on TNT.
Michael Jordan wanted to take a dig at the rookie but it turned out to be Steve's 'Holy Shit' moment
Steve Nash shared a hilarious incident remembering his rookie season on the show. It was his first month into the season and Suns were up against Jordan led Bulls. Steve was on the bus and Chucky Brown, his former teammate entered wearing Jordan Shoes. "
I'm like how'd you get those. He's like I asked him for it. I was thinking to myself, you can do that?"
ADVERTISEMENT
Article continues below this ad
In the game, Steve had his fanboy moment that he cherishes to date. "I got switched down to him. You know he backed me down to the post. (He) did his little shake and hit a fadeaway on me."
Michael Jordan was obviously not going to leave him to that and he went on and tried to take a dig at him. Who knew that would be the moment Steve Nash will remember as a Jordan fan.
"He comes over to me and says, 'You were at a slight disadvantage.' As a rookie, it was that moment where I was like holy shit." Steve mentioned. "All I could think was, Chucky Brown got his shoes. And I turn and I go, 'Can I have your shoes after the game?'" Well, he did get the sneakers after the match but this story remains imprinted in Steve's NBA days as one of the fan moments.
ADVERTISEMENT
Article continues below this ad
If fans were to play against Michael Jordan, how could they not exhibit respect and excitement towards him? Moreover, it's hilarious to know that players like Steve also feel the same.