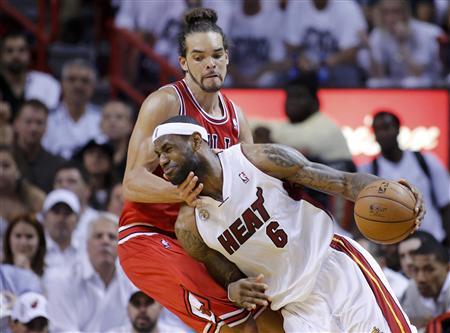 Back in 2010, while most teams were looking to bag the 'Big Three' in that free agency, Chicago Bulls were running the race as well. Joakim Noah is known for not having a healthy equation with LeBron James. But according to ESPN writer, Brian Windhorst, Noah also made an attempt to get him to the Bulls which LeBron clearly shrugged off.
Among several managements trying to sign the big deal, the Bulls were also expanding their cap space for a year. But it seems like while others were getting hold of the duo, Chris Bosh and Dwyane Wade, Miami Heat was the only one eyeing the 'Big Three'.
Derrick Rose was indifferent to the recruiting process of LeBron James and others
According to ESPN's detailed article on LeBron's 'The Decision' of 2010, Joakim Noah took the effort to call LeBron during his free agency despite their 'acrimonious' relationship. But the GOAT didn't return his call to take the favor.
At that time Bulls were incapable of signing three stars and held the space for only two of them. In order to get the third one as well, they required an extra $16-18 million in their salary-cap space.
Another reason that got highlighted about Bulls' failure to sign the 'Big Three' was the indifference from Derrick Rose. Their star player didn't get involved enough in the recruiting process to further the decision.
James got sold off on the idea of 'Big Three'
Many factors have come out as possible reasons for LeBron James making the decision to sign with Miami. But the one that stands true always is their bid to make the 'Big Three' possible set Heat apart. The three players wanted to play together and ultimately reduced the offensive load on LeBron.
The King faced intense criticism from all around the NBA world for taking the easy road to winning a championship. The year that followed was a tough one for him after his fans got disappointed with the mere idea of joining Wade and Bosh.
As expected, the trio did win two back-to-back championships together and proved their point until they got separated. Had the Bulls managed their deal better, how would have the last decade been different for LeBron?