"Did a Hell of a Job": Clippers' Star Kawhi Leonard Lauds Luka Doncic for a Record Breaking Playoff Run
Published 08/31/2020, 6:00 AM EDT
By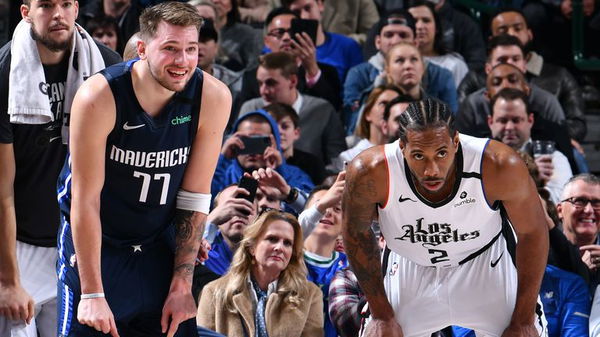 One of the most interesting Playoff series between Clippers and Mavericks has finally ended. The series finished 4-2 with Kawhi Leonard and co. making it to the Western Conference semifinals last night. For Dallas, Luka Doncic was a blessing, even on the losing end.
The two sides fought hard to make themselves eligible for the second-round Playoffs. Clippers' key duo, Kawhi Leonard and Paul George, were ecstatic, brimming with talent and experience. While Kawhi was slaying the opponents since the very beginning, Paul found his form in the last two crucial games of the series.
However, one man worth the praise is Mavericks' young star Luka Doncic. It was his career's first Playoffs series and quite a record-breaking one. Luka averaged 31.0 points, 9.8 rebounds and 8.7 assists against the Clippers in this postseason. He became the first player to average at least 30 points, eight rebounds and eight assists in his first-ever playoff series.
ADVERTISEMENT
Article continues below this ad
Kawhi believes Luka Doncic led his team commendably
In the post-match interview, Kawhi Leonard could not stop singing praises of the 21-year-old, who carried his team through these Playoffs with ease.
ADVERTISEMENT
Article continues below this ad
"He is a great player. His first Playoffs, battled every minute he was out there on the floor, then back down. [He] led his team in every game, he did a hell of a job out there."
Last night, Luka sidestepped on Kawhi's defense under the rim while he smoothly finished his layup. That moment surely found a place in the book of highlights of Game 6. Was it that time that Kawhi probably thought, 'Wow!'.
ADVERTISEMENT
Article continues below this ad
The young man struck in Game 4, when he knocked 43 points, 7 rebounds, and 13 assists along with a game-winning buzzer-beater. He owned the series for the Mavericks in the absence of his partner, Kristaps Porzingis. Moreover, Luka dealt with his ankle sprain and came back to hold his team together.
If not this time, he'll surely be a threat in the upcoming seasons. The beginning was this overloaded. Can one even imagine what he may do next?