Former Teammate Reveals Why Paul Pierce is Always Against LeBron James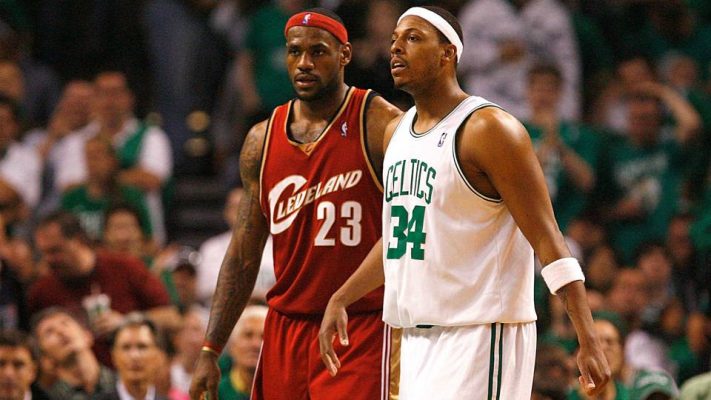 If we ever hear Paul Pierce talk about LeBron James, it has more often than not been in a negative sense. The last significant statement he made was that LeBron cannot be considered amongst the best five players in NBA history.
During the hype around Michael Jordan's 'Last Dance', Paul made a nasty comment saying, "I go back and I ask myself, 'What has LeBron done to build up any organization from the ground floor?"
Walker confirms that Pierce holds respect for LeBron James
Fans have noticed a developing hatred from Paul's end. But his former teammate, Antoine Walker, denies those rumors. Rather, he believes that respect prevails between the two.
"No I don't think he hates LeBron," Antoine Walker told on Heavy Live with Scoop B. "I think he respects LeBron."
While many consider LeBron as one of the greatest to play in the league, Pierce is far away from that belief. Moreover, he doesn't consider LeBron to be a notch higher than him in any way.
"Me knowing Paul's competitive drive, Paul doesn't believe LeBron's that much better than him," he said. "And I do believe that."
Is Celtics' Paul Pierce underrated?
Walker did mention how 'underrated' Pierce is as a retired player and hasn't received enough recognition as Michael Jordan or Kobe Bryant. His achievements got overpowered by the stars who played in his generation.
"People gotta go back and look at prime Paul Pierce," Walker added. "And I think because he won it with KG [Kevin Garnett] and Ray [Allen] he doesn't get the same credit as other guys.
"But if I remember, Paul Pierce was the MVP of the Finals, Paul Pierce was still that guy when those guys came on that team."
Pierce is a former NBA Champion for the Celtics and a 10-time NBA All-Star. Alongside the likes of Kevin Garnett and Ray Allen, he has achieved immense success in his career. He also earned the Finals MVP award in 2008, despite a star-studded lineup.