"Friendship Way Before the Trade": Lakers' Anthony Davis Recollects First Meeting with LeBron James
Published 09/30/2020, 1:21 PM EDT
By
The Los Angeles Lakers have certainly come a long way and the two men behind Lakers' impressive campaign were LeBron James and Anthony Davis. They redefined the term 'dominance' in the league, in such a way that they are now one of the leading duos in NBA history.
ADVERTISEMENT
Article continues below this ad
LeBron and AD contribute majorly to Lakers' victories and have been exceptional on the court so far. LeBron is averaging 25 points and 10 rebounds per game in this postseason, while Davis is at 28.8 and 9.3 respectively. They add up to more than 50 points per game, which is a phenomenal figure to look at.
Moreover, LeBron is currently with four triple-doubles this these Playoffs. And Davis has his numerous achievements further on.
ADVERTISEMENT
Article continues below this ad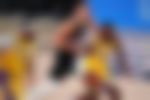 While we all are aware of Bron-Davis as a star duo during matches, we can't ignore the chemistry the two share on and off the court. Many believe that they have developed that when Davis got traded to Lakers last summer. Well, that isn't true.
Lakers' star duo, LeBron James and Anthony Davis, first met at the time of the King's 'Decision'
AD himself revealed his connection with LeBron and the first time he met the superstar.
'The Brow' was 15-years-old back when LeBron took 'The Decision' of his career. And that is exactly amongst the firsts in the duo's history."I remember catching a greyhound bus from Chicago and all the way to Ohio for his camp by myself, 15-years-old, and getting in his camp. I remember like, 'Yo, that's LeBron James'. I was there at his camp when he had 'The Decision,'" Davis told ESPN.
"To be here now, playing alongside him to compete for a championship, it's like surreal. But meeting him for the first time was like a dream come true."
ADVERTISEMENT
Article continues below this ad
Moving forward in the league as well, Davis and LeBron developed an equation through Bron's best friend, Chris Paul.
"Once I got in the league, I already knew (Chris) Paul in high school. So obviously, him and Bron were really close and I kinda knew Bron throughout the years, maybe my second year we got really close.
ADVERTISEMENT
Article continues below this ad
"And it has kind of just been a brotherhood from there. I also played with him in the Olympics in 2012, so I already knew him then as well… So, it was a friendship way before the trade."
Well, it surely was a friendship that started years ago, but whatever the circumstances, the two have been sensational as teammates. Can the Lakers' duo grab that title this year?