Why Giannis Antetokounmpo Should Never Join the Golden State Warriors Despite How Lucrative it Sounds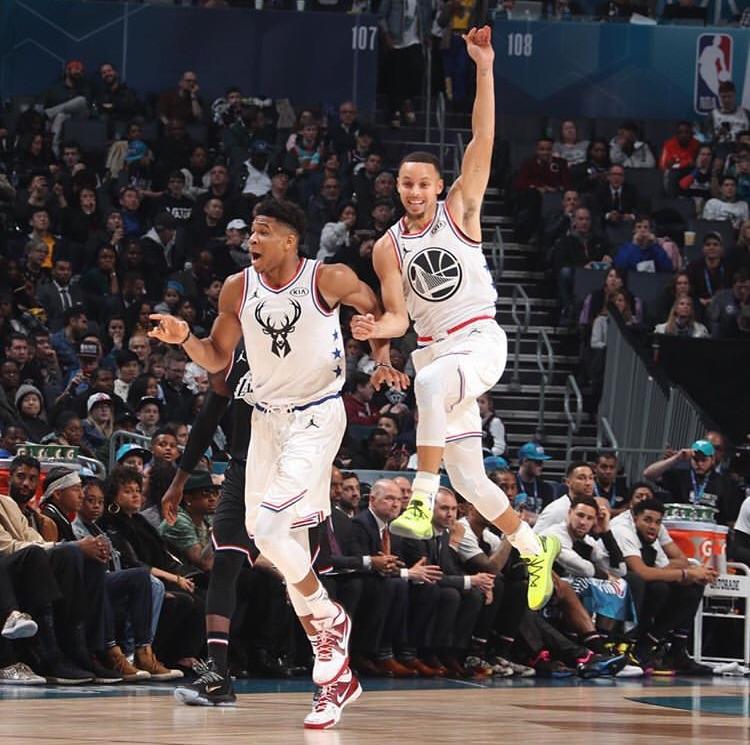 In NBA history, trade deals and contracts have played a significant role in changing the dynamics of the game. There has been criticism. There have been debates. But in the end, only time tells right and wrong. Recent trade rumors are circling around the Bucks Star, Giannis Antetokounmpo moving to Golden State Warriors in the coming seasons.
Well, there have been debates from both ends pointing out if the young sophomore will leave the Milwaukee Bucks for the star franchise. When it comes to Giannis, all reasons would be justified for a franchise to bid on him. Who doesn't want him? It's the sudden feeling of having him that is a consequence of his incredible six years in NBA.
The 25-year old's list of achievements is quite a huge one in a short time. He is the reigning MVP and seemed to be a potential one this season as well until it got suspended. Giannis is a 4-time NBA All-Star, been a member of the All-NBA First Team in 2019, and a high scorer for the Bucks. In the recent season, he averaged 29.6 PPG, 13.7 RPG, and 5.8 APG. Moreover, very early on, the youngster has landed in comparison with the greats such as LeBron James.
Giannis Antetokounmpo on Durant's path?
Golden State Warriors are already star-studded with the likes of Stephen Curry, Klay Thompson, and Draymond Green. Another Giannis? Is it really an answer to make him a better player? Not really. Considering the excellence that Warriors already hold, Giannis's arrival will lead to the loss of individual accolades. Yes, does this remind you of Kevin Durant's trade this season?
Kevin Durant being amongst the list of NBA greats couldn't make it to another year with the Warriors. Warrior's back-to-back championships had a great deal of contribution from Kevin's side. The 2-time Finals MVP moved to Brooklyn Nets post a sign-and-trade deal. In an interview after the deal, Kevin gave reasons for the swap and said that GSW belonged to Steph and Thompson since they were drafted there. Giannis might end up in the same situation as Durant's.
Golden State Warriors can't cater to all the stars
Too many cooks spoil the broth and that's what Warriors will be doing if they end up acquiring Giannis. He will be in a free agency period in the next two years and the next trading season is going to be crucial for the Bucks. But it seems like they are already prepared. The Eastern Conference's top standing team will give everything they have to keep their star player. Reportedly, The Bucks will be offering a SuperMax deal to Giannis that is touching a blaring $250 million. If he agrees to sign the contract, it will be the biggest contract in NBA history and that's massive!
It's a question of 'ifs' and 'buts'. Even if the Warriors wish to include Giannis to their roster, the salary cap might hold them back. This season, their total cap allocations were $131,521,342 million out of which Curry and Thompson were paid $45.8 million and $38 million respectively. The trio gets completed only with Draymond Green in the picture who took away $24 million for himself. Keeping in mind that Steph will be offered a hike in salary the next season, how are GSW planning on paying Giannis? The only option that seems evident is giving away either Thompson or Green to make space for the Bucks star. It's a tough one for sure.
Warriors are way ahead in planning their moves
There were rumors that Warriors trading D'Angelo Russell to Timberwolves was not to gain Andrew Wiggins but a prior plan for acquiring Giannis. If this news is true, then Warriors are waiting for an opportunity to grab the Bucks star in his free-agency period.
We might consider the Pelicans SuperMax deal that was let down by Anthony Davis in the latest season to play for the Lakers instead. But as far as Giannis is concerned, it's more about where he belongs. Giannis was drafted by Bucks in 2013 as the 15th overall pick and definitely he wasn't the player that he has become. The Bucks have mentored and nurtured Giannis to become the 'Greek Freak' he is. He won the 'Most Improved Player of the Year Award' in 2017 which proves the point.
It's more about where Giannis can play his own game and it's a matter of reputation. What he achieved as part of the Bucks is the stunning player he has shaped into. He has a long way to go ahead and small decisions can lead to large consequences in the NBA!