Golden State Warriors' Winning Ring or a Game With Shaq and Magic: How NBA Stars are Contributing for the All-In Challenge
Published 04/15/2020, 3:22 PM EDT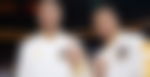 ---
---
Amidst the huge crisis that the world is facing, Philadelphia 76ers part owner, Michael Rubin has started an exciting initiative that is trending all over media. It's called the 'All-In Challenge' that aims to become the world's largest digital fundraiser for those in need of food. It's not an ordinary charity challenge. It not only feeds the needy but also gives fans a lifetime opportunity to bid or enter into chances to win some exciting offers made by eminent personalities. Recently, NBA players are taking this challenge ahead on the internet. The likes of Dwyane Wade, Magic Johnson, owner of Golden State Warriors and few more have already made the fans go bonkers over this challenge!
ADVERTISEMENT
Article continues below this ad
What exactly does this challenge offer?
The All-In Challenge is really gearing up amongst fans. As part of this challenge, the world's prominent personalities from various fields such as sports, music, entertainment, etc. will donate their prized possessions for auctioning. The other segment of the challenge is 'enter-to-win prizes' that are once in a lifetime opportunities offered by famous figures. The founder members of this challenge said in an interview that 100% money collected will be given to charity.
ADVERTISEMENT
Article continues below this ad
NBA Players are ready for the challenge
There are numerous NBA stars who have already taken up the All-In Challenge. Can you imagine 'wine and dine' with Dwyane Wade and his family? Yes, Dwyane Wade is offering a winemaking session with him during the October wine-harvesting season. Also, a drink with his family is part of the deal. I guess the fans are already screaming!
Magic Johnson is going to play HORSE at Staples Center with the winner. The offer doesn't end there. He is having a private tour of Magic's trophy room and will be watching a Lakers game from the courtside along with Johnson. And guess what! The Lakers star man, Shaquille O' Neal will have a 3-on-3 game with the winner and his four other friends. The opening bid is $5000.
Other players are also getting involved in this trend. Like Celtics star, Jayson Tatum will give a TD Garden experience and Ben Simmons will be coaching a 5-on-5 game of the winner and his 9 friends.
Golden State Warriors and Dallas Mavericks on the roll
The list doesn't end there. There are bigger deals and auctions that have already come up with a few days to this challenge. Dallas Mavericks is looking for a one-day contract! Yes, the team's owner, Mark Cuban has announced that he will sign a one-day contract for the winner during a pre-season game. The winner will be geared up in Mavericks jersey and will be allowed to shoot a free-shot in the match. He will on the roster on the website as well.
ADVERTISEMENT
Article continues below this ad
Recently, Golden State Warriors co-owner, Peter Guber, added a big deal to the auction list. He is auctioning the 2015 GSW championship ring with a starting bid of $50,000. The details mentioned on the auction website says that it is made of 14-karat gold and contains more than six karats of diamond and sapphire.
ADVERTISEMENT
Article continues below this ad
It's interesting where this challenge is going day by day. The fans are going to have a bizarre time! The initiative is really serving both sides of the table. Let's see what other players will have to offer!