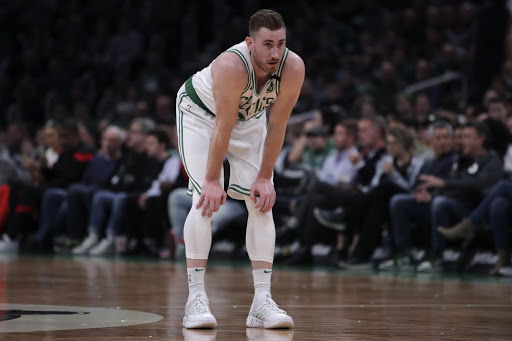 Boston Celtics star forward, Gordon Hayward recently mentioned that he will leave the Orlando bubble for the birth of his fourth child due in September. He has no doubt about his decision. Rather he says it's 'pretty easy' for him to take a call on this.
Gordon made this clear in a Friday Zoom call with the Boston reporters. "There'll be a time if and when we're down there and she's going to have the baby, I'm for sure going to be with her," he said Via ESPN. "We'll have to cross that bridge when we get there."
His baby's due time to be delivered is in September. By that time the NBA teams will be heading towards the playoffs in the bubble. But Hayward has set his priorities for his family.
"It's a pretty easy decision for me on that," Hayward added. "I've been at the birth of every one of my children, and I think there are more important things in life. So we'll cross that bridge when we get there."
The possible exit of Gordon Hayward around playoffs will impact the Boston Celtics in Orlando
The Celtics player has already started pre-planning about how he'll go about it. NBA has some set rules of quarantining for players moving in and out of the bubble. Gordon seems to be ready for it.
"I know the NBA has a protocol for that type of thing, and hopefully I can do the quarantining and testing the appropriate amount of time and then be back with the boys," he told on the call.
While it is good news for the Hayward family, Boston Celtics will have to accordingly plan Gordon's exit. This pandemic phase has made many former players admit that Celtics starting five is the best in the league. They may be a massive barrier to the success of Milwaukee Bucks in the East.
With the likes of Jayson Tatum, Kemba Walker, and others they have a deep lineup. But considering Gordon gone at that crucial time could impact the team planing. Who will be filling his shoes?
We'll have to see how it will turn out for the Celtics if they do reach playoffs. Will they surpass Giannis Antetokounmpo's Bucks?