"I Feel Sadness": Charles Barkley Expresses Despair on Losing Michael Jordan as a Friend
Published 05/06/2020, 5:18 AM EDT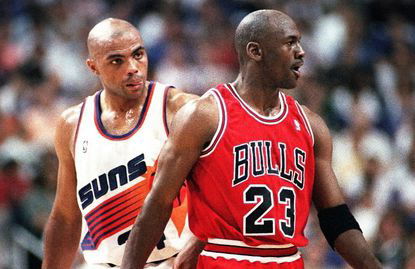 ---
---
Charles Barkley's friendship with Michael Jordan deteriorated when the former commented on MJ's management of Charlotte Bobcats. The once closely bonded friends lost touch in the midst of all this and Charles repents it to date.
ADVERTISEMENT
Article continues below this ad
He expressed his feelings of losing a dear friend while in a conversation with 'The Athletic' a few weeks back. And in the flow of it, he made a statement saying, "I thought the people he hired around him were too many yes men."
Barkley says he retained honesty with Michael Jordan
ADVERTISEMENT
Article continues below this ad
Recently with Jordan's documentary taking another turn, Barkley opened up on his long gone friendship with the GOAT.
"The guy was like a brother to me for, shoot, 20-something years," Barkley admitted on Tuesday's Waddle and Silvy Show on ESPN 1000 in Chicago. "At least 20-something years. And I do, I feel sadness. But to me, he's still the greatest basketball player ever. I wish him nothing but the best. But, there's nothing I can do about it, brother."
Back in time, Barkley had figured reasons for the deterioration in their relationship. He said on a radio interview, "As much as I love Michael until he stops hiring them kiss-asses, and his best friends, he's never going to be successful as a general manager." 
ADVERTISEMENT
Article continues below this ad
Charles Barkley thought that honesty was the base of their friendship but things went south instead. "But I thought that was one of the reasons we were great friends. Like, 'I can ask Charles anything and I know he's going to give me a straight answer.'
Watch This Story
"But part of my job [as an analyst] is because I can't go on TV and say 'Another general manager sucks'. And then just because Michael's like a brother to me say 'He's doing a fantastic job.' That would be disingenuous." 
ADVERTISEMENT
Article continues below this ad
The two Hall of Famers never got a chance to play with each other in the NBA. But the duo enjoyed their time in the 1992 Olympics 'Dream Team'. Charles says Michael still has his phone number but he knows he'll never make a call.