"I Would Have Destroyed You": What Kobe Bryant and Michael Jordan Thought of the Hypothetical '91 Bulls vs '03 Lakers Battle
Published 05/23/2020, 6:17 AM EDT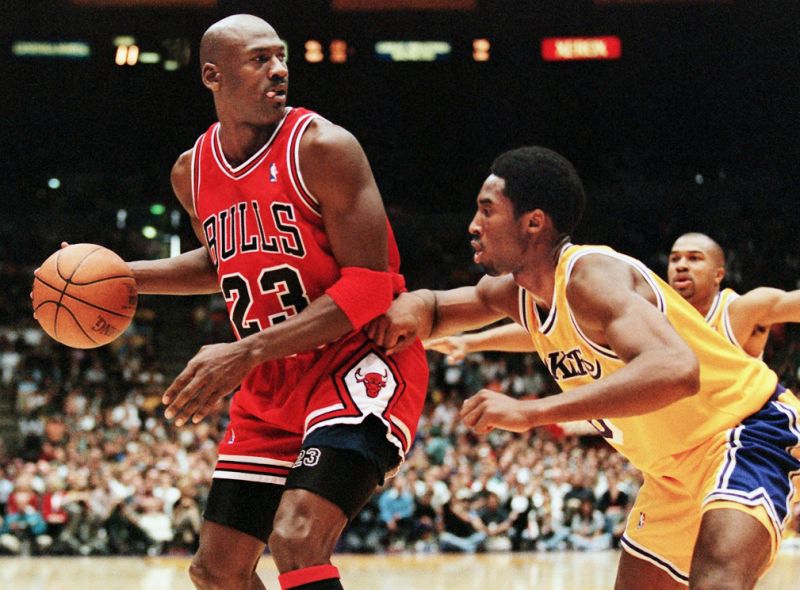 ---
---
The two NBA legends, Michael Jordan and Kobe Bryant had maintained a brother-like bond all along. However, it was only after Kobe's death that many got to know about the mutual respect between two of the best players of all-time. Few weeks before his death, Kobe shared an interesting side to their equation on a podcast.
ADVERTISEMENT
Article continues below this ad
On 'All The Smoke' podcast,
Matt Barnes
asked Kobe if he ever had an 'off-the-camera' conversation with MJ.
"Oh yeah!"
Kobe replied.
While many find the two players very similar in various aspects, Kobe denies it. He told, "It's fun. We're really different. It's crazy. He'll compete with any or everything. I won't. I only compete with things that I really am good at."
ADVERTISEMENT
Article continues below this ad
Guess what? What most fans find exciting, Kobe and Michael did have a '91 Bulls vs '03 Lakers talk. And it turned out hilarious. "He (Michael) would talk basketball all day long and start with, 'What would have happened if my '91 against your '03.'" Kobe shared insight on this intriguing conversation.
Michael Jordan was messing up with Kobe Bryant
Well, Michael Jordan is the competitive one always. He's the man who'll never leave a chance to have an upper hand over his opponents. But this verbal contest was purely amazing from a fan's point of view. It's like imagining the two legends talking about the most entertaining topic.
It's funny how Kobe just laughed all along while telling this to Matt and Stephen. "He (Michael) started the conversation which was, 'Well, I would have destroyed you.' I just said, 'Listen. Remember who you're talking to.' And he just started laughing like, 'I'm just messing with you.'"
Oh well, Kobe would be probably the only one who could respond to MJ that way. Otherwise, nobody messes up with Michael Jordan. Rather, nobody dares to.
It's interesting to see what a lovable relationship the two shared over time. And to many, it's surprising with the kind of success they both have achieved as players. Michael opened up for the first time about this on Kobe's memorial at Staples Centre. He referred to Kobe as his 'little brother' with tears in his eyes. That speech really broke many hearts.
Despite the competition that the NBA provides, it's fascinating to see such an equation between two of the best players in the history of the NBA.
ADVERTISEMENT
Article continues below this ad
ADVERTISEMENT
Article continues below this ad
More from EssentiallySports on Chicago Bulls