NBA Insider Predicts Where Pacers' Victor Oladipo is Getting Traded Next Summer
Published 08/28/2020, 2:12 PM EDT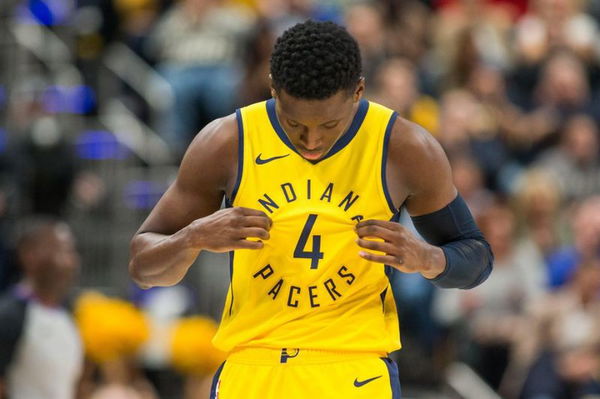 ---
---
Recently, Indiana Pacers' unexpectedly interesting campaign came to an end as Miami Heat swept them 4-0 in the Playoffs. With this, the team fired their coach Nate McMillan who was with them since 2016. And now there are rumors that Pacers's guard, Victor Oladipo is going to get traded next season.
ADVERTISEMENT
Article continues below this ad
Oladipo has been crucial for Pacers after he joined the franchise in 2017 but at the same time, his leg injury has created doubts. He suffered this in 2018-19 season and since then it hasn't been smooth for him
Well, the dynamics of the Indiana Pacers have changed evidently this year. While T.J. Warren's dream season came as a surprise to the team, Malcolm Brogdon was also acquired last summer. Moreover, Domantas Sabonis is their lead player moving ahead. Even though he was out for these playoffs, he'll be key to the franchise in future.
ADVERTISEMENT
Article continues below this ad
As his contract will be ending with Pacers this year, Oladipo will mostly be seen in a different jersey next time the league begins. NBA insiders are hinting at playoff opponents, Miami Heat as the next team for Victor. Most analysts have predicted his trade coming summer.
Dwyane Wade's close relations with Victor Oladipo are seen as higher trade chances to Heat
Recently, Basketball News' Nate Duncan says Victor seems to be having all connections linked to Miami. Thus that could be it for the 2-time NBA All-Star.
"There's been way too much smoke with Victor Oladipo to think he'll finish his tenure in Indiana. The will-he-won't-he element of his bubble involvement was odd to say the least. Once you add in all of his connections to Miami; he's a part-owner of a gym there, he rehabbed there and he is pretty close with Heat legend Dwyane Wade. It's not hard to put two and two together and get four."
Oladipo was averaging a mere 14.5 points per game in the regular season and was shooting 39% from the field. As the season resumed in Orlando, his field goal percentage has dropped even further.
Alongside Jimmy Butler and a new asset to their team, Bam Adebayo, Victor could fit in to make a strong side for Heat.
If this trade does happen then Pacers are clearly indicating huge changes to the team. With head coach fired and now Victor getting traded, Pacers are planning on rebuilding. This season has surely provided them with hope even if they couldn't make it past Heat in the Playoffs.
ADVERTISEMENT
Article continues below this ad
ADVERTISEMENT
Article continues below this ad