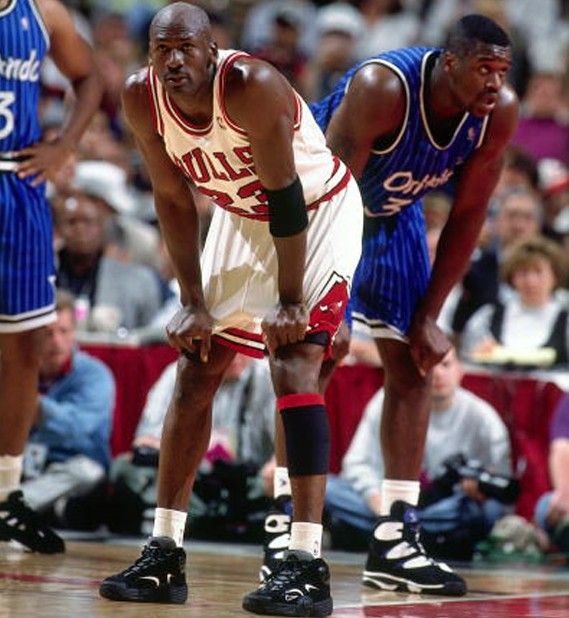 The 1984 deal that Michael Jordan signed with Nike was a turning point for the legend as well as the brand. 'Air Jordan' got released post the successful contract and became one of the best-selling sneaker brands in the world.
Moreover, very few players were signed to wear the elite Jordans. One of them was Penny Hardaway in his rookie years. But guess what, Michael wore Penny's signature shoe once in 1995 playoffs and it was a day of massive mutual respect between the two.
It was the Eastern Conference playoffs between Chicago Bulls and Orlando Magic. That was the time Jordan was recently back from his first retirement. And there he was wearing Penny Hardaway's first signature sneaker, Nike Air Flight. That was the only time MJ didn't wear his own signature shoes.
Moreover, this draws back to the time when Penny was one of the few players signed to wear Jordans in his rookie season. Recently, on The Uninterrupted show, Maverick Carter talked about MJ wearing Penny's sneakers. He says he was in complete awe of that moment.
Despite the killing spirit, Michael Jordan shares a soft corner for a few stars
"Michael treated the Air Jordan vs Nike rivalry the same way he treated playing basketball. He wanted Air Jordan to be the biggest sneaker brand in the world, as it's become. When I went back and saw that he actually wore a pair of Penny sneakers, it actually blew my mind."
Knowing the fact, how competitive Jordan is in every aspect, everybody was shocked at that moment. Carter told, "It didn't seem real because he's that petty. He doesn't want anybody else to win at anything. If he helps, if he lends his name or his image or his space or he wears something, it's gonna matter. That showed how much he respected, liked, and loved Penny Hardaway."
4-time NBA All-Star, Penny Hardaway was one of the big what-ifs in the NBA. If it hadn't been his injuries, he probably could have made his career look different. The current University of Memphis coach was one of the best point guards in the NBA. But things turned out the other way round for him. When asked how he felt about his shoes in MJ's feet, he said, "Come on man, it meant everything."
The Orlando Magic star had immense respect for Michael and the same was vice-versa. They shared a mutual admiration for each other. Also, Penny doesn't deny it either. "That's just mad respect out there."
Read More: Michael Jordan's trainer reveals details about the Flu Game