"It's Crazy": Return of Celtics' Star Gordon Hayward Relieves Jayson Tatum
Published 09/20/2020, 12:55 PM EDT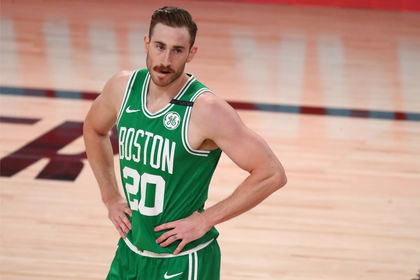 ---
---
Boston Celtics has checked back in the series after going down by two games in the Conference Finals series. The series stands at 2-1 and Celtics have brought their star player, Gordon Hayward back after a month of injury.
ADVERTISEMENT
Article continues below this ad
The Heat had taken up the lead 2-0 until the Celtics fired back with a 117-106 win in Game 3. The match displayed a clear upper-hand on the Celtics' end. On the contrary, Heat collapsed with a disappointing performance on the court.
Jayson Tatum put up an impressive show with 25 points, 14 rebounds, and eight assists, nearly making it to the triple-double. To add to the crucial victory, Jaylen Brown knocked 26 points, seven rebounds, five assists.
ADVERTISEMENT
Article continues below this ad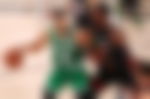 Celtics' main man, Gordon Hayward was out for a long time due to an ankle sprain. He returned at an essential stage of the series in Game 3 that gave his team a win to fall back on. Hayward recorded six points, five rebounds, four assists, and three steals in his 30 minutes of gameplay.
Jayson Tatum believes Gordon Hayward adds value to Celtics' season ahead
Hayward's arrival has impacted the team in a positive way and Jayson Tatum holds him extremely important for the season ahead. In the post-match interview, Tatum dismissed the doubters who believed that the Celtics could function without Hayward.
"We played a while without him (Hayward) and I've said it before, it's crazy for anybody to think that we are better without him. We're so much better when he's out there. He's so much more dynamic, so much more versatile when he's out there. It felt great to have our full team back and he played great in his first game. He's going to continue to get better, get his feel back. So to have him back is everything."
Now that the Celtics' starting three is complete with Hayward joining Tatum and Brown, the team will hope for better chances. Their first win of the series will surely work as a motivating factor. But the concern remains, can they restrict Jimmy Butler in any manner?
ADVERTISEMENT
Article continues below this ad
Celtics will have to display their A-game on account of being a step behind Miami Heat for equalizing the series.
ADVERTISEMENT
Article continues below this ad