The present head coach of Houston Rockets, Mike D'Antoni, introduced one of the most innovative offensive strategies in NBA. Former Phoenix Suns star Steve Nash was one of the players to benefit from that, and another is James Harden.
Mike D'Antoni has been in the coaching business for a pretty long time now. Back in 2004-05 season, Steve Nash returned to the Phoenix Suns with Mike as his head coach. With the player-coach coordination that the two possessed, they changed the face of the game in those years.
D'Antoni is known for his excellent and heavily offensive playing strategy that worked well with young Steve Nash. That season itself, Steve was named the MVP and D'Antoni's pick-and-roll offense awarded him with the NBA Coach of the Year Award.
Mike created the "Seven Seconds or Less" approach that helped Steve to become the best version of himself. In Mike's second year with the Suns, Steve became the MVP. Since 2016, D'Antoni is coaching the Houston Rockets and now, James Harden has made his own era with the wonderful coach.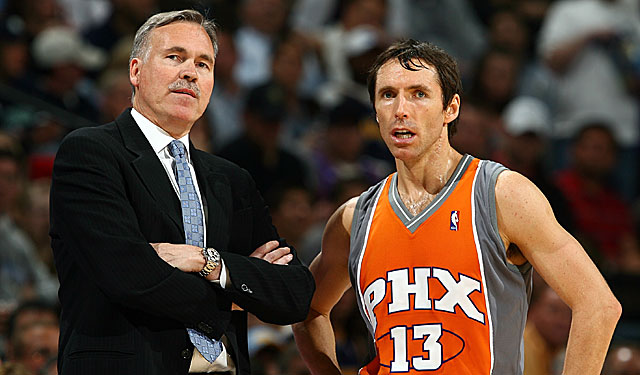 James Harden evolved as a dominant player under Mike D'Antoni
Harden was initially playing for Oklahoma City Thunder alongside a star lineup of Russell Westbrook, Kevin Durant, Serge Ibaka, and Kendrick Perkins. Despite excessive talent gathered in a single unit, James outshined by being named the NBA Sixth Man of the Year in 2012.
Upon joining the Rockets, he found his individual reputation as a dominant player, popularly known as the Beard. And Mike holds immense credit for that. The first year with the Rockets, he simply switched Harden's position to point guard to get a better hold of the game.
That season, the broad sized player led the assists charts and recorded tremendous numbers. Moreover, he was the scoring leader for two consecutive years.
Under Mike's guidance, he started dominating the entire game and finally became the MVP in 2018. Harden could have earned it thrice in a row but he was right behind Russell Westbrook and Giannis Antetokounmpo in 2017 and 2019, respectively.
D'Antoni also won the NBA Coach of the Year once again. Even today, after Chris Paul's exit for Russell Westbrook, Houston's strategy has been consistently on the offensive end.
Former Houston Rockets player says that D'Antoni's system was 'exhausting'
However, Steve Nash says it was not as easy as it seemed. The D'Antoni system was 'exhausting' as he likes to call it.
"It's not that easy though, like people think 'well in that system.' But we had a hard time finding someone to play when I sat down," Nash told on Knuckleheads Podcast.
"But over the course of the season having to make all the decisions and being super-efficient, it relies a lot on that player to be efficient and consistent over and over. It allowed me, that's why I did well."
Talking about Harden, Steve agrees Mike is following the same approach with him as well.
"I think we (Harden and I) are different players but we both play cat-and-mouse where we allow our scoring to make our passing more dangerous, and our passing to make our scoring more dangerous. And put the defense in a bad position, where they're constantly having to make really quick decisions, that no matter what decision they make could be wrong.
"The system really allowed me to be at my best, but it was also exhausting."
Well, James Harden has proven something completely beyond words in the years with the Rockets. Steve doesn't deny that.
"James Harden… I can't even relate. For someone his size to do what he does. And he's taken this era and embraced it the way it's being played. And he's putting up numbers that are crazy."