"There Was Donald Trump Level Pettiness": JJ Redick Makes a Shocking Revelation on the Demise of Lob City
Published 04/11/2020, 9:53 AM EDT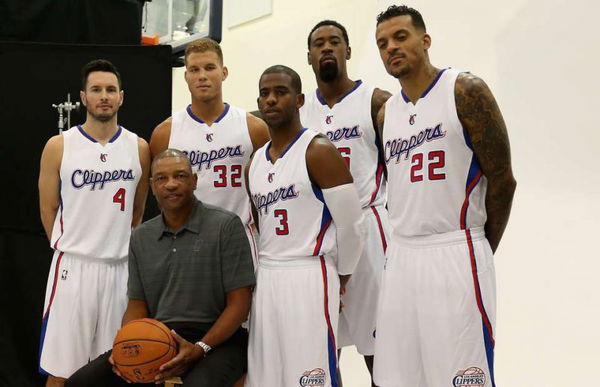 ---
---
'Lob City' was the best version of the LA Clippers in the 2011-13 phase. With the inclusion of Chris Paul and Griffin already holding up the team, Clippers were becoming favorites but in vain. They never got to hold the NBA championship to their name. JJ Redick, traded to Clippers in 2013, talks about Lob City's dissolution on the 'Pardon My Take' podcast.
ADVERTISEMENT
Article continues below this ad
With the likes of Blake Griffin, Chris Paul, and DeAndre Jordan, what went wrong with the Clippers? Why were they the best team without any trophy?
ADVERTISEMENT
Article continues below this ad
After then four-time All-star, Chris Paul was traded to Clippers, Griffin named the team as 'Lob City' on Clippers Media Day. It was the same season, 2011-12, when Clippers tread to the playoffs for the first time since 2005-06.
Doc Rivers announced his arrival as a head coach of the team in 2013. The same year JJ Redick also got traded from Bucks to Clippers. Redick became a 'full-time starter' for the 'Lob City' in the NBA. In his first season, JJ scored the then career-high of 33 points against Dallas Mavericks.
JJ Redick on 'Lob City' demise
With such class players in the team, there were rumors about internal conflicts within the team that never came as facts to the audience. They were dealing with certain issues and somehow never made it to the winning moment in NBA.
ADVERTISEMENT
Article continues below this ad
Recently, in a podcast, JJ Redick, who currently plays for Pelicans, opened up about the 'Lob City' demise. "Oh man, I don't think there was one moment,"  Redick stressed on the point, "Doc used to always talk about how when one group was kind of together for a long period of time, instead of getting closer together, you end up pointing fingers at each other." 
He even admitted how 'petty' the issue was and said, "Off the court, everybody sort of got along and then there was just so much pettiness. It was so much pettiness. It's weird to think (about) what we had the potential to accomplish and what ultimately derailed that was pettiness. Like Donald Trump-level pettiness."
ADVERTISEMENT
Article continues below this ad
"I think the biggest problem was passive aggressiveness." Redick opened up, "I don't know that we hate each other, I don't know that, but I think it wasn't that while we were playing together. It wasn't like, 'oh I hate this guy,' it was just like passive aggressive bullshit."
If things like passive aggression wouldn't have conquered the team, maybe the alternate world could have been different for the 'Lob City'!