The Most Emotional Story of NBA: When Magic Johnson and Isiah Thomas Hugged and Shed Tears to End Their Dirty Feud
Published 04/26/2020, 5:54 AM EDT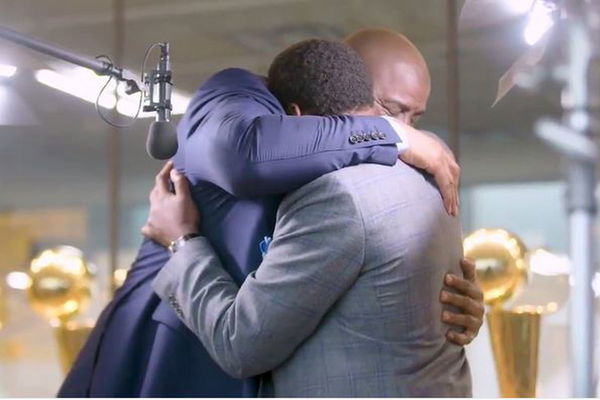 ---
---
Years of a controversial dispute finally came to an end. After a long rough patch in their friendship, Lakers star, Magic Johnson and Isiah Thomas reconciled to settle their history. There have been multiple feuds in NBA history but this one went along for quite a lot of time.
ADVERTISEMENT
Article continues below this ad
The two were best friends in early stages on their career and then it just went for a dip since the 1988 NBA finals. At least that's what most believe to be the igniting point. Johnson and Thomas had a bit of a rough scene in the middle of the finals between Lakers and Bad Boys Pistons. While Thomas mentioned that fight to be the reason, Magic made sure the actual reason was clear later on.
In 1991, Magic Johnson retired from the NBA after being tested positive for HIV. His retirement news took over the media around the globe at that time. There were rumors about Johnson's sexuality circling everywhere and apparently it was Thomas who was behind it. Magic blamed him for the same a lot of times but the latter denied it.
ADVERTISEMENT
Article continues below this ad
Thomas was literally 'left' out of the Dream Team in 1992 Olympics
Despite Magic's retirement, fans wanted him to be the starter in the 1992 NBA All-star and voted him in. His former teammates, Byron Scott and A.C. Green were hesitant and advised him to not play. Magic played for the West and went on to win 153-113 and also earned the MVP award for the same.
The same year, Isiah Thomas was ignorantly left out of the 'Dream Team' in the Olympics. The likes of Michael Jordan, Larry Bird, and Charles Barkley were part of it. Magic Johnson mentioned in his autobiography, 'When The Game Was Ours' that Thomas "questioned his sexuality and that several players did not want him [Thomas] on the original 'Dream Team' that easily won Olympic gold."
An excerpt from the book read, "Isiah killed his own chances when it came to the Olympics. Nobody on that team wanted to play with him. … I'm sad for Isiah. He has alienated so many people in his life, and he still doesn't get it." So much was revealed that now the viewers knew that it wasn't the issue with Jordan that led to Thomas not playing in the Olympics.
Magic Johnson and Isiah Thomas share an emotional moment
ADVERTISEMENT
Article continues below this ad
In a one-on-one conversation on 'Players Only Monthly' on NBA TV, the two former best friends let out their sides of the story to resolve the long-drawn conflict. This interview was dated back to 2017 when all was said and done.
Magic opened his heart to Thomas and said, "This has been a tremendous day," he added, "You are my brother. Let me apologize to you if I hurt you—that we haven't been together. God is good to bring us back together. A bitter past led to that heart wrenching emotional moment between the two NBA stars. Isiah Thomas was in tears and they hugged when Magic admitted, "I know man, it hurt me too." 
ADVERTISEMENT
Article continues below this ad