"Bad People were Getting into Shaq's Ear" Former Teammate Explains the Reason Behind Kobe Bryant – Shaquille O'Neal Feud
Published 04/26/2020, 7:52 AM EDT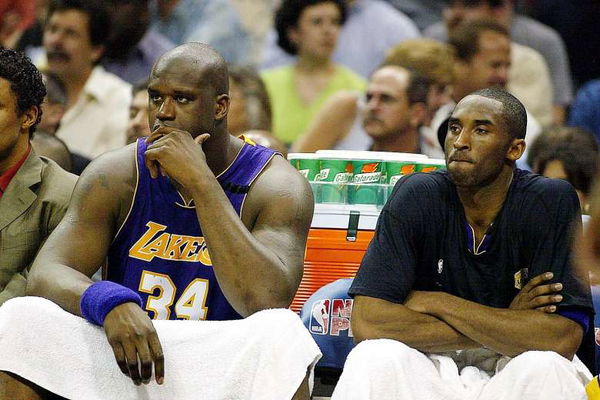 ---
---
Shaquille O'Neal and Kobe Bryant have really confused people with their unique equation during their playing days. It's a love-hate scenario and you'll never know which phase is going on at that moment. It's funny what sort of duos existed in NBA history but this one is a clear favorite for many. John Salley, Lakers former power forward opened up on the soft side of this relationship and what made things the way they became.
ADVERTISEMENT
Article continues below this ad
While Kobe and Shaq have achieved milestones in their career together, there were issues that stretched throughout their playing days. The duo won three consecutive championships for the Lakers and became the face of the team. They had their golden days with a mix of misunderstandings and jealousy.
John Salley described one particular incident that emphasized on Shaq-Kobe's moment as acquaintances and not enemies. It goes back to NBA finals in 2000 when Lakers were up against Indiana Pacers. It was Game 3 and Kobe hurt his ankle really badly. He was wearing a boot that was ice cold. John described it further, "He can barely walk. Shaq carries him on his back." That was what the two had.
ADVERTISEMENT
Article continues below this ad
Shaquille O'Neal and Kobe Bryant affected by bad people?
It's probably external factors that acted as a catalyst in the Kobe-Shaq feud. "I remember bad people were getting into Shaq's ear that Shaq realized are not good people… Now he does," John admitted, "Hindsight 2020, that he didn't have to go through that… Any animosity or jealousy or-he say, she say." 
Well, one instance of open resolution of this conflict was when Kobe and Shaq sat in a one-on-one conversation on ESPN. They discussed and reflected back on their accomplishments, fights, etc to which John told, "Well, that's good. It's always better when you get that out because fights are never really about what it is. It's about something else."
ADVERTISEMENT
Article continues below this ad
John feels there are two results to this bonding session. "One, that they can stand up for each other. But two, I know the person hurting crazy is Shaquille." Well, that's true. He is hurting probably. The way Shaq talked about Kobe at his funeral, referring him to be his younger brother was unusual and extremely emotional.
This is just one of those incidents, probably a lot many we don't know about!
ADVERTISEMENT
Article continues below this ad