Despite Grudges and Issues, Why Did Shaquille O'Neal Wear #8 for Kobe Bryant During an NBA Game?
Published 05/06/2020, 8:30 AM EDT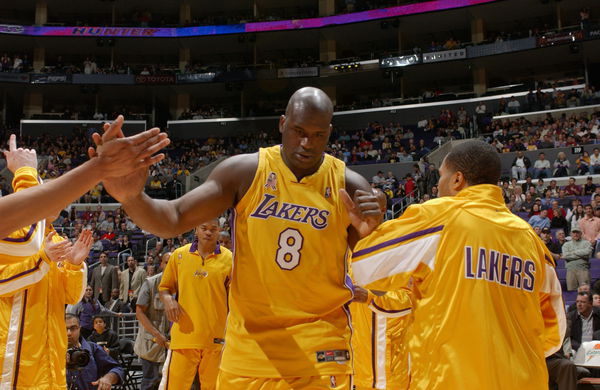 ---
---
NBA's most confusing relationship for most will be that between Kobe Bryant and Shaquille O'Neal. How much ever the two go against each other and carry their jealousy factor, they have had their good times.
ADVERTISEMENT
Article continues below this ad
Well, one was back in 2002. Kobe got suspended for two matches and Shaq wore his No.8 jersey to show support. Moreover, sweet words were exchanged post that gesture from Shaq. Nobody's lying. Yes, that happened!
First of all, why did Kobe Bryant get suspended? It was in 2002 when Kobe-Shaq Lakers were up against their former 2000 NBA finals opponents, Indiana Pacers. It was a match that would book a berth in the finals for the winner. The match went more like Kobe was up against Reggie Miller due to their own reasons.
ADVERTISEMENT
Article continues below this ad
Just a few seconds to the buzzer and Kobe took a 3-pointer that he actually missed. And immediately at the buzzer's second, Miller and Bryant got into a fight in the most horrible manner. They were throwing punches at each other such that the scorer's table was in a mess. As a consequence of violating the rules, both the players were suspended for the next two games.
Kobe was apologetic for his behavior
The Los Angeles Times reported that Kobe took full responsibility for such actions later on. "I deserved [the two-game suspension]," he admitted. "I deserved it. Probably deserved even a little more…. I'm going to apologize to my teammates because I can't join them.
"They're out there battling and fighting on the court…. I don't believe fighting is the answer. At all. I don't. But sometimes, as a man, you have to do what you have to do."
Kobe was extremely apologetic for what he did but at the same time said that it was what he felt right at that moment. "We can sit up here and talk about this until we're all blue in the face. The fact of the matter is, I made a mistake. It wasn't the best decision in the world.
"At the time, I felt like it was the right decision. I have to deal with the consequences," he added. "I have to deal with criticism. I just move on and continue to grow and mature as a man. That's the bottom line.
"Trash-talking is something, it's part of the game. There's a thin line between taking things from the basketball court and taking things off the court." Kobe was clear on the issue after this.
Moreover, when Reggie Miller mentioned that Kobe was going through certain personal issues that may have ignited it, Kobe called him a 'fool'. "Reggie doesn't know me," he said. "He doesn't know me at all. And I'll never argue with fools. That's just a waste of time."
ADVERTISEMENT
Article continues below this ad
Shaq shows support for Kobe Bryant
In the very next match against Houston Rockets, Shaq wore Kobe's No.8 jersey to exhibit his support for his teammate. Well, that's a gesture that touched all the Lakers' fans.
Kobe himself was overwhelmed with what Shaq did and said, "I was kind of happy, man, because you know how the NBA rules make you wear those tight, little John Stockton uniforms? I was kind of happy. He stretched it out for me. I was hoping maybe he could wear my shorts."
ADVERTISEMENT
Article continues below this ad
These are the rare times that the NBA fans have seen between the two Lakers greats who always locked horns against each other. The duo had won two titles and was pacing for the three-peat in 2002. They went on to do it in style!