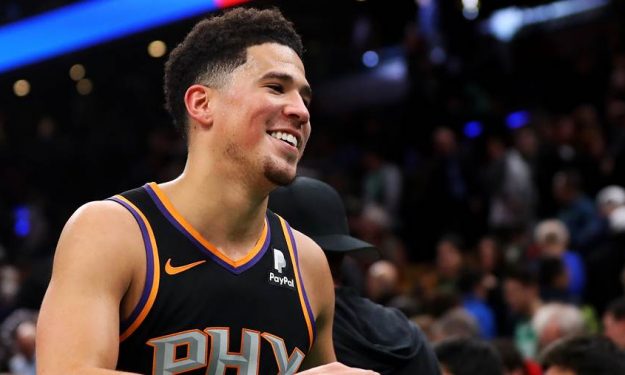 The NBA world is full of surprises and has constantly found ways to entertain us even off-court. The Phoenix Suns tried to do the same for its players on Tuesday's matchup against the Philadelphia 76ers.
In view of the ongoing coronavirus, the season was resumed with a lot of measures kept in mind. Basketball fans all over the world were pleased to hear about the season restart. Little did they know of the difficulties the players would have to face for this. The Walt Disney Disney World Complex in Orlando invited 22 teams to play in the season. The Orlando Bubble is a concept that enables the NBA to keep social distancing measures and regular testing in check. The toughest part is that the players have to stay away from families and friends for the entire duration of the season.
Phoenix Suns new lineup video
The Phoenix Suns have shown tremendous effort to reach the Western Conference playoffs. Devin Booker, Mikal Bridges, and DeAndre Ayton are the stars of this team. The Suns are going undefeated with seven consecutive wins ever since the season resumed. With almost nil chances to make it to the playoffs, the Suns wanted to do everything possible to keep their team morale high.
In their matchup against the Sixers, they came up with a unique way to introduce their lineups. They had family members and friends to do it for them from the comfort of their homes. The Suns' Twitter handle posted the video along with the reaction of the players.
I'm not crying… you are

We surprised the team with starting lineups announced by their families at home 💜🧡 pic.twitter.com/xjtwYS7RN1

— 8-0 (@Suns) August 11, 2020
The Suns also got Devin Booker's famous 16-year-old fan to be a part of the video.
Lebron James and Stephen Curry's reaction
Everyone really loved this heartfelt video and it even made some players emotional. Star players like Lebron James and Stephen Curry took to Twitter to express their happiness.
Lebron wrote," That was AMAZING!!!!!!!! S/O the Suns for that. Damn I miss my family!"
That was AMAZING!!!!!!!! S/O the Suns for that. Damn I miss my family! 😢😢😢❤️❤️ #JamesGang👑 https://t.co/SSA8Dknpn3

— LeBron James (@KingJames) August 11, 2020
Appreciating the gesture, Curry said, "Aye this was amazing" and tagged the Suns too.
Aye this was amazing @Suns 🙌🏽🙌🏽🙌🏽

— Stephen Curry (@StephenCurry30) August 11, 2020
A plethora of other plays also applauded the video, making it even more evident that they were all in a tough spot. And being away from their family hasn't made it easier on any of them! Nevertheless, the players are aware of their goal and are focused on achieving that after which they can finally be with their loved ones.