Olympics Coach Reveals the Extent of Effort Kobe Bryant Put in Trying to Improve His Three Pointer
Published 04/29/2020, 1:16 PM EDT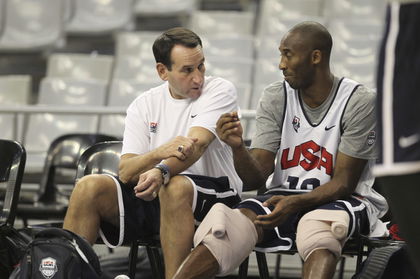 ---
---
Kobe Bryant has left bits and pieces of memories with so many that it's difficult to recapitulate. From the NBA greats to coaches and team managers, Kobe is remembered by all. Similarly, Mike Krzyzewski's Kobe memory is of those days when he was the coach of the US men's national basketball team. He shared an incident with his students at Duke University, of coaching Kobe during the 2008 Olympics. 
ADVERTISEMENT
Article continues below this ad
Mike is the head men's basketball coach at Duke University since 1980. He has been a boon to the college basketball players and led Blue Devils to five NCAA Championships. What's surprising is that he still mentions Kobe in his coaching sessions even though the two haven't spent much time together. Mike was taking a session with his university students on a 3-point open sooting and stressed its importance. In the midst of this, Kobe Bryant played a role in it when the coach got reminded of one of the stories of him. 
Coach K reflects back on coaching Kobe Bryant
ADVERTISEMENT
Article continues below this ad
Coach K, as Mike was commonly called, told an anecdote from his national team coaching days to his students. "When I coached the US Team, I talked to them about hitting stand-still threes," Mike added, "Kobe Bryant said, 'Coach, I never get a stand-still three.' I said, 'You will get stand-still threes. He said 'I'm always double-teamed.' [I said], 'You won't be double-teamed because LeBron James and Carmelo Anthony and all those guys will be out on the court. You're going to get open threes. Then all of a sudden he did and he didn't hit them. Then he's in every night shooting thousand shots a night and that's not an exaggeration."
Coach K surely seemed quite impressed with that dedication that Kobe had. He wished to impart the same in his message to his Duke students. Well, Kobe Bryant was known for his footwork, drive-ins, and inside gameplay. Mamba's career field goal percentage stands high at 44.7%. But his 3-point shooting is a mere 32.9% which is 'mere' in front of Kobe's greatness. Despite all that, the story really narrowed down to Kobe's zeal to become the greatest. 
The 2008 Olympics, Kobe averaged 15.0 points, 2.8 rebounds, and 2.1 assists along with shooting 0.462 from the field in eight Olympic matches. The US team went on to win a gold medal that year in the Olympics. 
ADVERTISEMENT
Article continues below this ad
ADVERTISEMENT
Article continues below this ad