LeBron James Records a Staggering Feat Surpassing Klay Thompson in NBA Playoffs
Published 08/23/2020, 12:20 AM EDT
By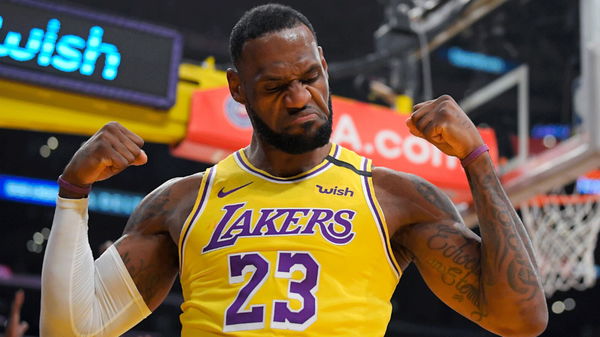 NBA star LeBron James is back to his beast Playoffs mode after a 116-108 Game 3 victory over Blazers. Lakers pulled themselves together after an embarrassing defeat in the first game and ever since then, their energy is different.
ADVERTISEMENT
Article continues below this ad
LeBron steals a victory and takes away achievements from every part of the court. Similarly, he was impressive tonight with some classy drive-ins and assists. Many LeBron fans would be delighted to have his game back on the 'A-level'.
35-year-old LeBron James isn't stopping there. He has records flowing in at every point.
ADVERTISEMENT
Article continues below this ad
After a staggering performance of 38 points, he stepped up to No.3 in the list of most three-pointers in Playoffs history. He bagged 4 buckets from beyond the arc in tonight's match and now he holds 375 threes in playoffs. The King is just behind Ray Allen by 10 and Stephen Curry leads the chart with a massive 470.
He surpassed Warriors' Klay Thompson, who now holds one less than this. It won't be long before LeBron crosses Allen to grab that second spot on the achievement list.
ADVERTISEMENT
Article continues below this ad
LeBron James led Lakers defeated Blazers in classy fashion tonight
It started as a close Game 3 for the two teams until the Lakers sped up in the second half. Anthony Davis was off to a slow start but picked up in the latter part of the game. He recorded 29 points, 8 assists, and 11 rebounds that led the team to the finish line. The duo- LeBron and AD- were perfectly controlling the first and second halves of the match, respectively.
Alex Caruso was another impressive highlight of Lakers' performance. Caruso defended his way through the fourth quarter as he focused his skills on Damian Lillard. Blazers' big man was playing with a dislocated index finger but still added 34 points to their defeat.
ADVERTISEMENT
Article continues below this ad
CJ McCollum, who scored 28 points, looked like he could take the Blazers to the lead, but in vain. The Lakers went forward in a flash and clinched a 14-point lead towards the end of the match. The series is 2-1 with Lakers on the upper hand.
After a tremendous Game 1, Blazers didn't seem promising, followed by an unfortunate injury of their best player. Is it a downfall for them from here on, or are they looking for a comeback in Game 4?