"Used to Having One Tragedy After Another": Carmelo Anthony and Kyle Kuzma Make Bold Statements on Racial Abuse
Published 06/09/2020, 12:24 PM EDT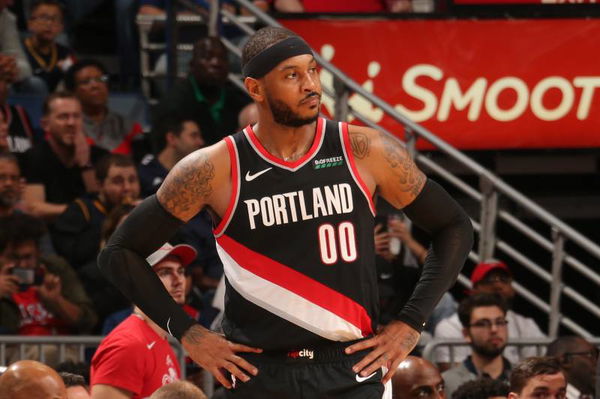 ---
---
This time, Carmelo Anthony shared a glass with Lakers forward, Kyle Kuzma to talk about the elephant in the room. The nationwide protests against police brutality and racial injustice have lifted voices. On his Youtube Live show, Anthony and Kuzma talked about the issue at length saying, "not going to be quiet, not going to shut up".
ADVERTISEMENT
Article continues below this ad
On the latest week of "What's in Your Glass", the host, Carmelo Anthony had a chat with Kyle Kuzma. The two players of different generations had immense to say on the issue. Kuzma went on to elaborate on the situation of Los Angeles and how racism has existed there for years.
Also, one thing that stands out for the young man are the protests. He describes them as a 'beautiful' sight to watch. "Even in Portland on the bridge – that (protests) was a beautiful thing to see…This is the time… We need to be unified and not just one race, with everybody collectively doing it, and to me, it's beautiful to see." Kuzma told Melo.
ADVERTISEMENT
Article continues below this ad
Kyle Kuzma talks about the biggest misconception between these protests
While people are busy saying George Floyd's death is entirely police department's fault, Kuzma says it's the "biggest misconception".  In fact, the 24 -year old believes those 'racists in uniforms' are the integral problem.
"Out there, it's a lot of good cops, too. You've got to look at both spectrums, but there's a lot of racist people out there that are in cop uniforms and for me, I think, it's more so about the system than it is the actual departments." Kuzma admitted.
Trail Blazers star Carmelo Anthony says, "These are f***** up times"
Carmelo had his own stance on the burning issue. He says these are "f***** up times" and the country was trying to show some solidarity for years. Well, now is the time "we deserve change" is what the Trail Blazers power forward believes.
ADVERTISEMENT
Article continues below this ad
"We've been so used to having one tragedy after another, after another, after another, and now is a time that we've taken that lid off and we're going for what we deserve," Melo added. "We deserve justice and we deserve to have our voices heard and we deserve change." The two stars say, "Now is the time".
"Everybody feels empowered right now", Anthony was determined on what the younger generation like Kuzma should take forward. In response to this, Kuzma says that his generation matters to start the fight against wrong but the current players also have to get the job done.
"Putting action to your words… There has to be accountability and there has to be action to really make a substantial change to anything." Kuzma said.
ADVERTISEMENT
Article continues below this ad
The country is standing up for a cause in current times and so are the NBA players. Recently, a number of them were seen participating actively in protests and others taking a stance on social media. Those like LeBron James have spoken against racism over and over again. But this continues.