Los Angeles Lakers vs Portland Trail Blazers Game 5: Injury Updates and Predictions
Published 08/28/2020, 10:07 AM EDT
By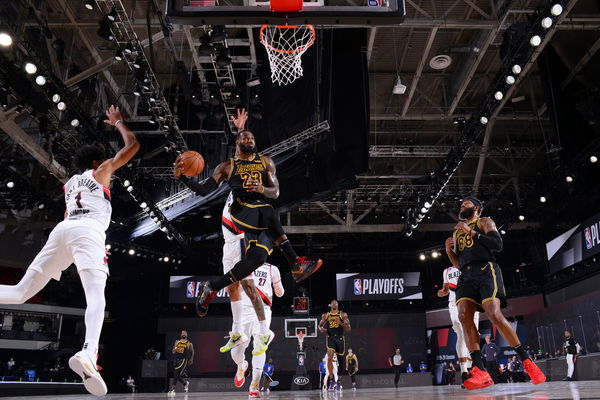 The NBA league is heading on its way back after the games were boycotted for two days. Lakers were going to lock horns with Blazers in their fifth game on August 26. But now, the two teams will face each other today.
ADVERTISEMENT
Article continues below this ad
Two days ago, Milwaukee Bucks boycotted their Game 5 against Magic. After that, meetings were held with teams and officials that led to a conclusive decision on resuming the postseason.
Lakers-Blazers series is at 3-1 with LeBron James and co. leading. The last game was a splendid display of talent from the star team. They made it to a 135-115 victory, including contributions from most of the lineup.
ADVERTISEMENT
Article continues below this ad
Even though Anthony Davis sat out later on in the match with a back issue, the team turned the scoreboard in their favor.
On the other hand, Blazers will not have their star man Damian Lillard for Game 5. He suffered a knee injury in the third quarter of Game 4 and had to be benched for the remaining time. Moreover, Lillard left the Bubble on Thursday to undergo a further examination of his injured knee.
Damian Lillard will leave the NBA campus in Orlando on Thursday & return to Portland for further examination of his injured right knee. Lillard's availability to return to the Orlando campus is yet to be determined. Further updates will be provided as necessary.

— Portland Trail Blazers (@trailblazers) August 27, 2020
Lakers and Blazers will be fiercely competing for different reasons in Game 5
Lakers will be out there with their entire roster. However, Rajon Rondo's arrival is expected, but not yet confirmed. This game is for Lakers to close the series 4-1. If they do so, they'll meet Houston Rockets or Oklahoma City Thunder in Western Conference semifinals.
ADVERTISEMENT
Article continues below this ad
It is a do-or-die situation for Blazers. Since Lillard is out, CJ McCollum and Jusuf Nurkic will hold the responsibility of the team. Team coach Terry Stotts is confident about making this game count despite Lillard not being there.
One positive aspect is how Carmelo Anthony is slowly becoming a major contributor to the numbers. He's finding his form in the Bubble, something which is great news for the Blazers.
The Blazers have fought hard to reach the postseason, and they will not give up on their spot easily. It's their last chance to continue playing this season. But if Lakers respond with the same energy as Game 4, it will get tougher.
ADVERTISEMENT
Article continues below this ad
Besides LeBron and AD, Kyle Kuzma and Alex Caruso are getting points off the bench. They are showcasing star standards day-by-day and have put immense pressure on their opponents.
It will be a great fight from both ends. Blazers need to be in their best version to win this one.