Luka Doncic Compared to the Likes of Michael Jordan and Scottie Pippin as Mavs Owner Pips Him for Greatness
Published 04/18/2020, 4:19 PM EDT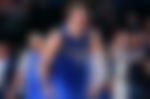 ---
---
Comparisons are part of any sport, it's more about who is being compared. Dallas Mavericks owner, Mark Cuban recently gave a statement about Luka Doncic's game. The surprising bit was, Mark, drew comparisons between Luka and Mavericks star Dirk Nowitzki.
ADVERTISEMENT
Article continues below this ad
Luka Doncic is the upcoming sophomore for Dallas Mavericks. He has his own set of skills that he possesses and has gained a reputation in his rookie years. The year he was drafted, Luka was named the 'NBA Rookie of the year'. It was the 2019-20 season when Luka got a place in the NBA All-Star team for the very first time.
Mark Cuban banks upon Luka Docic to surpass Dirk Nowitzki
ADVERTISEMENT
Article continues below this ad
The star player of the team, Dirk Nowitzki who gave all his 21 years of NBA career to Mavericks recently bid farewell to the sport. The Luka-Dirk duo got a chance to play only one season together but it was quite a pair for the fans to watch.
Could Luka surpass Dirk as the Mavericks of all time? Mark Cuban surely believes so. In the history of Dallas Mavericks, Mark Cuban says that Luka Doncic can overthrow Dirk as the best player.
"Could he (surpass Dirk)? Yeah, because I think the game has changed enough, it's more wide-open today than it was when Dirk first got to the league. So he's got that advantage, but he could win MVPs, he could win a championship. I hope so, and I know Dirk would hope so too," added Cuban, "They're good friends too, so I think they support each other either way." Cuban told FanSided in an interview.
Dirk is a 14-time NBA All-Star and 2011 Finals MVP. His experience is probably not even comparable to Luka. Luka has his own set of achievements in a couple of NBA years but he definitely has a long road ahead to match Dirk's accolades.
Is Luka-Dirk duo the new MJ-Scottie?
Mark Cuban thinks the duo could have done wonders if they got an opportunity to play in their prime time. Mark's comparisons go far-fetched. He made a strong point on Luka-Dirk holding the possibility of being another MJ-Scottie. Do you think so? Well, Mark sounds quite sure of it.
ADVERTISEMENT
Article continues below this ad
"Oh my God!," he said. "We only got to see little glimpses when Dirk was at the end, which, could you imagine if they were both in their prime? Oh my goodness. That's MJ and Scottie again."
Michael Jordan and Scottie Pippen were a classic duo of all time. They have won three championships together for the Chicago Bulls in the 90s. When one compares a pair in NBA to MJ-Scottie, it's an impactful statement. We all know Dirk Nowitzki is an all time legend for the Mavs. But to put Luka, a mere 20 year old, in the same league as MJ and Pippin, is a huge huge statement from Mark Cuban.
What do you think about this? Do you think it is a bit of an overstatement to put Luka up there? Or considering the progress he's shown, it is justified?
ADVERTISEMENT
Article continues below this ad