NBA Player Reveals He Received Hate Mails for Months for Trash Talking Klay Thompson
Published 04/10/2020, 10:31 AM EDT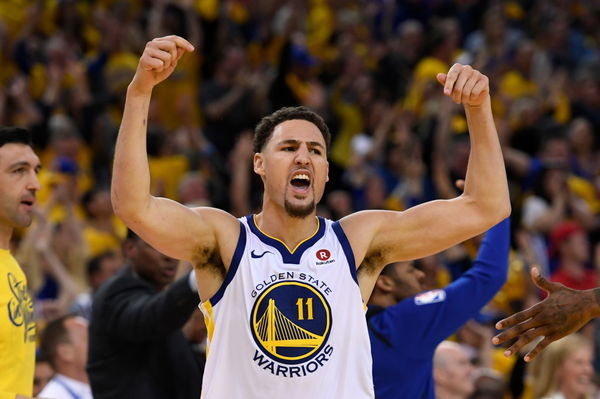 ---
---
With fierce competitive spirit, every player has their own set of altercations that they get into on the court. Some may just end there and then but some may lead to trash-talk on the court. When asked about his favorite trash-talk, Zach Collins chose the Klay Thompson banter from last season.
ADVERTISEMENT
Article continues below this ad
Collins shares favorite trash-talk moment with Klay Thompson
In the previous season, Portland Trail Blazers were playing against the league favorites Warriors when the dissing between the two players took place. It was the 4th quarter of the match with Blazers leading 104-101. Thompson triggered the situation by elbowing Collins in the chest while going for a layup. The Blazers forward got pushed by the force with which Thompson drove in and fell to the ground. The referee called for an offensive foul on Thompson.
ADVERTISEMENT
Article continues below this ad
This didn't end there. Collins retaliated and started jawing Klay, in response to which Thompson did the same. The trash-talk continued while players and referees were trying to calm both of them. Moreover, Jonas Jerebko intervened in the scenario and this went on until it led to technical fouls on both players.
Zach Collins still receives 'hate mails' from Warriors fans
Recently, in a conversation on Instagram Live, Zach funnily picked this as his favorite trash-talk moment.
ADVERTISEMENT
Article continues below this ad
"The Klay Thompson moment obviously comes to mind," Collins said, "I just kind of …I don't know, in that moment, I probably said some things I shouldn't have. But I was in the moment, I was hyped, it was against the Warriors and everybody's trying to beat them. We had been going on a run and I was just like, I didn't care who it was, you were getting it that night if you came up to me. So he said something to me and I turned around and saw red. I just went crazy for a second."
"I got a lot of clout from that. A lot of followers," Zach had a laugh on this one and said, "I got a lot of hate mail from Warriors fans. I still get it to this day. It went on probably the rest of the year."
GSW went on to win the match against Blazers and made their place in the finals for the fifth time straight!
ADVERTISEMENT
Article continues below this ad