"I'll Tell Him to his Face": Shaquille O'Neal Puts a Big Question Mark on Tim Duncan's Five Championship Wins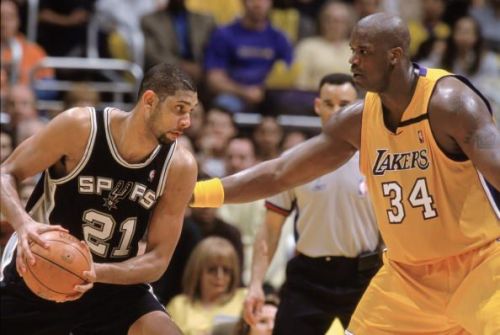 The debate on whether the NBA season should resume or not is still ongoing but Shaquille O'Neal surprisingly believes it shouldn't. Fans are excited about the season's possible comeback and so are the Los Angeles Lakers as they are favorites to win the league.
Shaq has compared the current situation with the 1999 season lockout. He has made a controversial comment on the then-NBA winners, San Antonio Spurs. He shunned the fact that their first title even counts among the trophies.
Back in that season, the lockout was due to the NBA teams wanting to increase the salary cap. Moreover, the NBA organization was preferring a different idea. The season was reduced to a 50-game regular season. Spurs defeated Shaq's Lakers in the Western Conference semifinals and went on to win the title.
Shaquille O'Neal demeans the first championship title for Spurs of 1999
With LeBron James leading Lakers, they are looking like the favorites to win the current season. But Shaq doesn't want the same outcome for his franchise.
On the recent episode of 'The Big Podcast', O'Neal said, "I wasn't into [the postseason]. And I would tell Mr. Duncan this to his face. You have four rings, yeah it says you have five, but the asterisks doesn't count. Anything I do, I never want an asterisk about it."
Tim Duncan is the current assistant coach for Spurs and was one of their most important player back in the 1999 season. "I'll tell him to his face, I'll tell all of San Antonio to its face, you only got four. It's an asterisk," O'Neal said.
He added, "You don't have to agree with me, you don't have to like me, that's what I think. So all the people that get mad? I'm glad you're mad."
Since O'Neal doesn't like to count Spurs' first-ever championship, he doesn't want this season to restart so that Lakers don't have a championship to their name with an asterisk on the top. Well, for Spurs that title was just the beginning and it meant a lot to the franchise.
Shaq's degrading comment might lead to a war of words between him and Duncan. Will the latter respond to this in the new future?