"The Way They Dominate the Ball" Mavericks Teammate on How Luka Doncic Resembles LeBron James
Published 05/21/2020, 1:25 PM EDT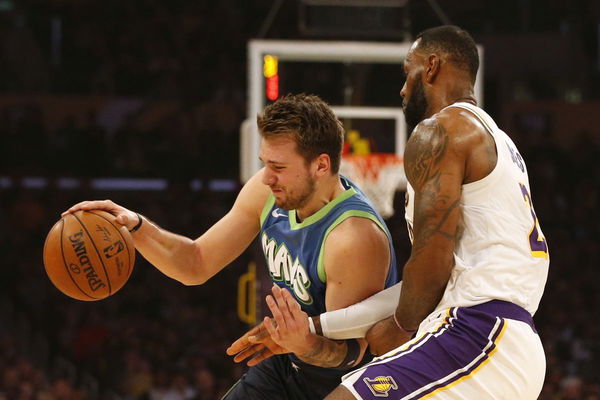 ---
---
Dallas Mavericks guard and younger Curry brother, Seth Curry recently drew similarities between Luka Doncic and  LeBron James. Being Luka's teammate, Seth looked into his strengths as a player. While everybody knows what a lethal shooter Doncic is, but what makes him resembling LeBron?
ADVERTISEMENT
Article continues below this ad
The 21-year old Luka Doncic is really taking a stronghold of his game in the initial years itself. This season he was named as an NBA All-Star for the first time. Luka averaged 28.7 PPG, 8.7 APG, and 9.3 RPG this time. His numbers speak for themselves.
Luka Doncic is similar to LeBron James in terms of dominance, says Seth
ADVERTISEMENT
Article continues below this ad
Talking about Luka's game, Seth told Austin Rivers on UNINTERRUPTED, "He never gets scared under pressure. He plays big and big games. He's done it over and over and over in a big situation."
Well, the Mavericks guard has been terrific in pressure situations. Seth says his dominance in the game is what matches LeBron. "Him (Luka) and James are very similar in the way they dominate the ball. They make probably 75 of the plays throughout the game and they put up big numbers. I mean, it's hard to take the ball out of their hands."
ADVERTISEMENT
Article continues below this ad
Compared to the new generation players, Luka has attained a high notch in his few years in the NBA. Moreover, many people have great expectations from him and are eager to know what he'll achieve in the coming years. But Seth seems rather confident. "He (Luka) can be one of the best to ever do it when it's all set and done."
James and Doncic posses similar stature as well. That may also make their game look alike. "The way he (Luka) sees the floor, it's similar to LeBron. He's so big, he can see everything and he can make the passes too," Seth added. "His passing is ridiculous, man." 
Well, in the years to come, Luka Doncic will have his own set of heights he would have probably achieved. But being compared to the Lakers legend from now on itself is a big plus point. Luka has a long way to go!
ADVERTISEMENT
Article continues below this ad