"Sit Yo a** Down!" When LeBron James yelled at His Mother After a Hard Foul
Published 05/25/2020, 6:00 AM EDT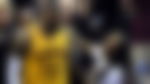 ---
---
We all remember LeBron James for his numbers and performances. 12 years ago today, there is a particular incident that a few might recall. Back in 2008 Eastern Conference Semifinals, LeBron yelled at his hyper mother, asking her to calm down in the stands.
ADVERTISEMENT
Article continues below this ad
The Boston Celtics had finished the season with a record of 66-16. They were going quite strong, and midway found Cleveland Cavaliers in the semifinals of the Conference standings. Celtics had acquired Kevin Garnett and Ray Allen that season and things were going their way.
In semifinals Game 4, Paul Pierce took to LeBron with full power. He fouled young James and the two went juggling towards the stands. LeBron's mother, Gloria James was sitting in one of the first few benches. She got hyped up because of the foul. Garnett even tried to calm her down but she didn't stop.
ADVERTISEMENT
Article continues below this ad
In the heat of the moment, James screamed at her saying, "Sit yo a** down!" And he fired up his game after that.
A few minutes after the incident, LeBron postered a dunk on Garnett that made the audience sit in awe. And Kevin Harlan commented on that move – "LeBron James with no regard for human life!"
LeBron James apologized to his mother after yelling at her in the match
ADVERTISEMENT
Article continues below this ad
After that match, LeBron was asked questions by the media about that incident with his mother. He revealed that he apologized to her.
"I told her to sit down, in some language I shouldn't have used," James told in an interview. "Thank God today wasn't Mother's Day. All I could think about is her. … I know my mother. It's fine, we're good."
The Cavaliers eventually won that match 88-77 but lost the series. Celtics powered forward in the playoffs and went on to clinch the title that season. They beat Kobe Bryant's Los Angeles Lakers 4-2 in the finals. That was the last time Celtics won the NBA championship.
ADVERTISEMENT
Article continues below this ad
LeBron recorded 30 PPG, 7.9 RPG, and 7.2 APG in that season. The same year he was also named the NBA All-Star MVP for the second time. James was even the scoring champion of the league. His tremendous performances won hearts 12 years ago and continue to do so even today.