Son of NBA Legend Kareem Abdul-Jabbar Recently Arrested for Brutally Stabbing His Neighbor
Published 06/12/2020, 9:37 AM EDT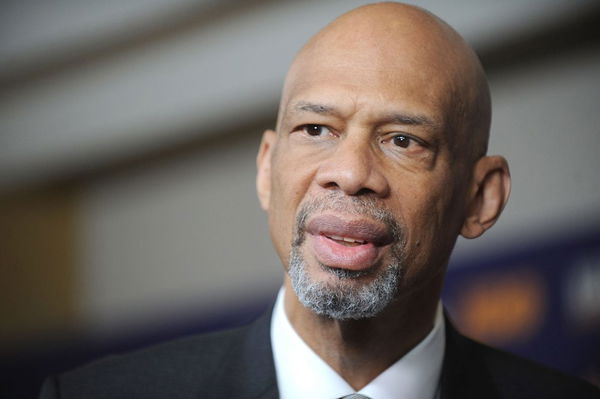 ---
---
The youngest son of Kareem Abdul-Jabbar, Adam was arrested on Wednesday for committing an alleged crime. According to the cops, his son brutally stabbed his neighbor in Orange County multiple times. The news was covered by TMZ Sports reporters. Cops say that the victim was hospitalized with injuries.
ADVERTISEMENT
Article continues below this ad
Reportedly, the incident took place on June 9 in the evening. Kareem's son used a deadly weapon for charging on his neighbor. After the assault, the victim was sent to the hospital "with multiple non-life-threatening injuries" as told via TMZ. There has been no statement from Kareem or his family since the incident on Wednesday. The reporters say that he didn't respond to their calls as well.
The cops involved in the case told TMZ, "The suspect, who is the neighbor of the victim, was arrested without incident." This incident has raised questions on one of the greatest NBA players, Abdul-Jabbar. The last time his son had made an appearance in the media was in 2017. It was for a "Celebrity Family Feud" along with Kareem himself.
ADVERTISEMENT
Article continues below this ad
Additionally, the police department has mentioned that the investigation is ongoing and there is no confirmation yet.
Kareem Abdul-Jabbar: A renowned NBA player, one of the greatest of all time
Kareem Abdul-Jabbar is a recognized sportsperson and has achieved numerous feats in his playing days. One of his unbroken records is winning the MVP six times in his NBA career of 20 years. He played most part of his years for the Milwaukee Bucks and Los Angeles Lakers. Also, he has a record of 19-time NBA All-Star that no other player has to date.
ADVERTISEMENT
Article continues below this ad
Kareem has had a spectacular time in the NBA. Back in 2016, ESPN had also announced him as the second-best player in NBA history after Michael Jordan. Moreover, several NBA men such as Pat Riley and Isiah Thomas have also regarded him as the best of all time.
This news may come as a shock for many Kareem fans. His son was arrested a few days back and now cops are waiting for a certain response from the case investigation.
Also, some time back, the NBA legend had donated 900 pairs of safety goggles to UCLA amidst coronavirus pandemic. Moreover, he thanked the doctors and the healthcare department for their contribution at the time of crisis.
ADVERTISEMENT
Article continues below this ad
If the investigation doesn't go his way, Kareem might face acute criticism after this. Moreover, his reputation could be at stake post such a brutal incident.