"He's a Great Dad": Son Releases an Emotional Statement for Karl Malone After the Premiere of Michael Jordan's The Last Dance
Published 05/19/2020, 10:09 AM EDT
By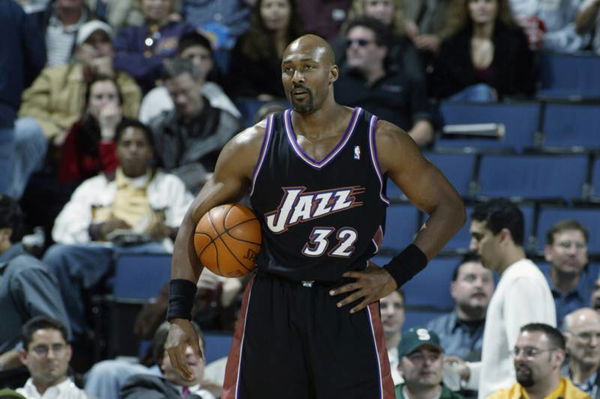 The Last Dance turned ugly for Karl Malone after the release of the latest episodes. While the episodes focused on Karl, his Utah Jazz side and their two consecutive NBA finals loss against Michael Jordan and Chicago Bulls, the viewers went peeking into his dark past.
In response, his son, KJ Malone took a stand for his dad and his family on Twitter.
Karl Malone is a 14-time NBA All-Star and spent most of his career playing for Utah Jazz. His team was up against MJ's Bulls in the 1997 and 1998 finals. Karl was an incredible player and won the MVP award twice – in 97 and 99. That's also pretty much what pushed Jordan to beat him.
ADVERTISEMENT
Article continues below this ad
While these aspects do make a great story, viewers seem to be interested in his off the court past as well. Reportedly, Malone had impregnated a 13-year-old named Gloria Bell while he was at Louisiana Tech. They had an out-of-court settlement regarding child support concerns.
Son mentions Karl Malone is a great person and takes utmost care of the family
While the NBA fans haven't gotten over the incident, this time, his son, KJ has taken a step forward to protect his father. He tweeted a thread of videos with the caption, "Please watch and respect my family".
ADVERTISEMENT
Article continues below this ad
The young Malone emotionally admitted that his father made a mistake. He added how Karl treats all the members of the family equally. Demetrius Bell, Gloria and Karl's son, is also taken care of.
"I'm just doing this for my family and just standing up for my dad," a teary-eyed KJ said. "He made a mistake but at the end of the day, he's still a great dad. He still takes care of Demetrius. Demetrius is my brother, I love him to death." 
The comments people have made on Malone's family has affected them as individuals. KJ revealed how these accusations hurt him.
ADVERTISEMENT
Article continues below this ad
"It doesn't only hurt me. It hurts me seeing my mom. I just want to let you all know, my dad, he's a great person," KJ added. "It hurts, it really does."