"Team-Up With a Team That Hasn't Won a Championship,": NBA Legend Has a Strong Advice for Kevin Durant
Published 06/17/2020, 4:30 PM EDT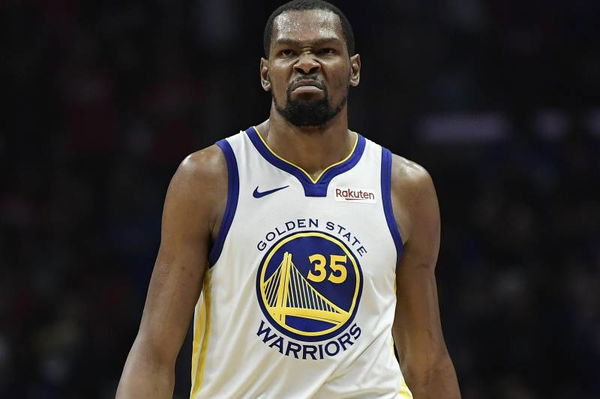 ---
---
Back in 2016, Kevin Durant made a decision to walk to Golden State Warriors in the prime time of his career. Previously in nine seasons with Oklahoma City Thunder Kevin had proved his worth. But now it was time for a change. While many were very excited to see him join the top dynasty at that time, Tracy McGrady differed in opinion.
ADVERTISEMENT
Article continues below this ad
Kevin Durant had made his mark in the league by 2016. He won the NBA MVP award in 2014 and was a then six-time NBA All-Star. On this side, Warriors were also in their most incredible phase with the three best men of the league. They had recently won a championship in 2015.
So, Kevin was going to team up with Stephen Curry, Klay Thompson, and Draymond Green to complete the most star-studded lineup at that time. The analysts could see the franchise winning those two championships ahead in the future.
ADVERTISEMENT
Article continues below this ad
Former NBA star player, Tracy McGrady, was against Kevin teaming up with the Warriors. When asked if he would have joined such a great team that was on the road to championships, T-Mac bluntly said, "In my prime, absolutely not."
Tracy says Kevin Durant could have teamed up with Chris Paul in Clippers
"I wouldn't go team up with a team that possibly is coming off winning two championships. No," Tracy was clear. But the former veteran said it with reasons. "Because I think he's (Kevin) talented enough to be on a team to carry that team to a championship. That's the type of talent he has. Go team up with Chris Paul in Los Angeles, go team up with Melo (Carmelo Anthony) in New York."
Well, Tracy was quite elaborative on his point of 'pride'. Michael Jordan also pulled a franchise like Chicago Bulls from scratch to win six championships. Tracy says that it's 'gratifying' to do it with an underrated team. "Teamup with a team that hasn't won a championship, I mean that would be more gratifying of a feeling."
Mentioning that Tracy says it's not the same as LeBron James joining Miami Heat in 2010. "Miami didn't do anything before LeBron got there."
This season, Kevin Durant was willingly traded to Brooklyn Nets to join his friend, Kyrie Irving. There was complete chaos when Kevin left the Warriors. People were stunned by this decision. After winning two spectacular NBA titles with them, 'Why?' was the question.
ADVERTISEMENT
Article continues below this ad
He did mention his reasons after various rumors. One of them was that he didn't feel the same way in the team as Steph and Klay because he wasn't drafted there. This is a general opinion by most that Kevin was shadowed by the Splash brothers in GSW. Can we say Tracy's statement in 2016 proved to be right? What do you think?
ADVERTISEMENT
Article continues below this ad