The Most Bizarre Reason Why Los Angeles Lakers Lost 1989 NBA Championship: "Coach Hitler" Pat Riley
Published 04/10/2020, 7:06 AM EDT
By

Follow Us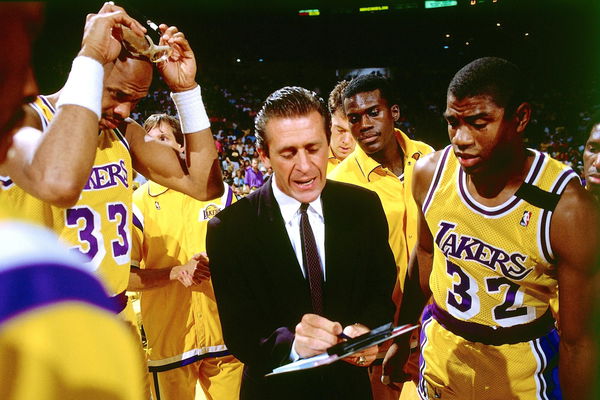 What Pat Riley achieved in his coaching career was phenomenal. But what will remain a blemish for him is the 1989 NBA final as the head coach of LA Lakers. Under his guidance, Lakers won back-to-back championships in 1987 and 1988. Then what was it that led to intense criticism against him in '89?
Mini Training Camp for the Lakers prior to 1989 NBA Finals
ADVERTISEMENT
Article continues below this ad
After having won two championships in a row, Lakers were the clear favorites in the 1989 season. In addition, they went undefeated to the playoffs 11-0 in that season. Then, they went on to sweep the show against Portland, Seattle, and Phoenix Suns. Riley's team was on a roll until they faced the Detroit Pistons in the finals.
During a long break before the finals, Pat Riley had set up a 3-day mini-camp for the team to polish them for the final performance. Lakers' chances of winning became less likely with Byron Scott and Magic Johnson facing sudden leg injuries. They lost an embarrassing 4-0 defeat to Detroit Pistons.
Pat Riley – 'Coach Hitler'?
Many believed that it could be their third continuous championship title if they wouldn't have gone through Riley's strenuous training session. Kareem Abdul- Jabber was playing his last NBA season that year. He partially blamed Pat for the downfall of his career end matches."Technically, Pat has to take the blame, he had the reins. He's not responsible for the guys getting hurt, but is it possible," Jabber opened up to the press, "That he trained us past the point where guys could make it through the playoffs without getting hurt? I'm not throwing stones at Pat, he had to call it as he saw it."
Pat Riley faced acute criticism from the players for being 'torturous' and 'sadistic'. Michael Cooper once half-jokingky referred to him as 'Coach Hitler' for his tough pre-match sessions.
Pat defends his efforts as a coach
"They all should go back to 1987 when they lauded Camp Riley. "We did the same thing," Riley said in response to the criticism, "And beat Boston 126-113 and 141-122 in the first two games. Boot Camp Riley was applauded one year and then broken down the next." Pat called the injuries as 'two freak injuries' and seemed to defend his efforts as a head coach of the Lakers.
ADVERTISEMENT
Article continues below this ad
Isiah Thomas led Pistons, felt that the credit for their win was going elsewhere. Thomas mentioned in an interview in the midst of the series, that the Lakers seemed to focus more on their injuries rather than Piston's 3-0 lead.
What might be a bitter finale for the Lakers, it was surely something to forget and move on. Pat Riley went on to achieve milestones in the 90s. He won the 'NBA Coach of the Year' award thrice in 1990, 1993 and 1997 and became one of the most successful coaches of all time.
ADVERTISEMENT
Article continues below this ad