"The Ultimate Disrespect": Former NBA Player on What Started the Feud Between Lebron James and Paul Pierce
Published 05/21/2020, 1:54 AM EDT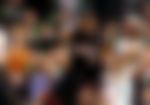 ---
---
The beef between Paul Pierce and LeBron James seems never-ending. The unfamiliar 'spitting incident' dates back to LeBron's rookie season, which was the ignition point. And ever since, the two haven't seen eye to eye.
ADVERTISEMENT
Article continues below this ad
While 2004 was the rookie season for LeBron, Paul had entered his seventh in the NBA. In one of the pre-season matches, Cleveland Cavaliers and LeBron were up against Paul's Celtics. Paul shot over the young James multiple times in the third quarter. In response to that, the now-Lakers star gave it back in equal measures.
Paul wanted a chance to overpower the rookie and prove he has the upper hand. But then after a few small knicks here and there, the two started jawing with each other. The Celtics star was furious and even started screaming at James.
ADVERTISEMENT
Article continues below this ad
He went on to spit towards the Cavaliers bench. The atmosphere got so intense that Pierce's teammates had to keep him away from LeBron to avoid a physical fight.
Well, that was exactly when things turned ugly between the two. The feud could never see its end.
Recently, Paul took a dig at LeBron by saying that he isn't one of the top-five players in NBA history. While many would deny that outrightly, Paul is clearly influenced by his past altercations with him.
LeBron James and Paul had to be kept away from each other
ADVERTISEMENT
Article continues below this ad
Kendrick Perkins talked to ESPN's Cassidy Hubbarth and Amin Elhassan about the same.
"Paul is talking noise to the bench, right?" Perkins said. "He's talking big noise to the Cavs bench, and they're sitting over there, Bron and them, they're all sitting over there. … Paul actually spits over there at the bench, right? The ultimate disrespect."
Paul retired in 2017 while LeBron is going strong in his 16th season. But the hatred hasn't faded. "Ever since that moment," Perkins said. "LeBron James and Paul Pierce hate each other. They don't speak to each other. Even now, today."
ADVERTISEMENT
Article continues below this ad
These two NBA players have had incredible careers. But they clearly don't get along well. It would be interesting to see if the Lakers star has a comeback to add fuel to the fire.