"They Should Be Pi**ed Off": Former NBA Champion Lashes Out Against Chicago Bulls, Golden State Warriors and Others
Published 06/05/2020, 3:39 PM EDT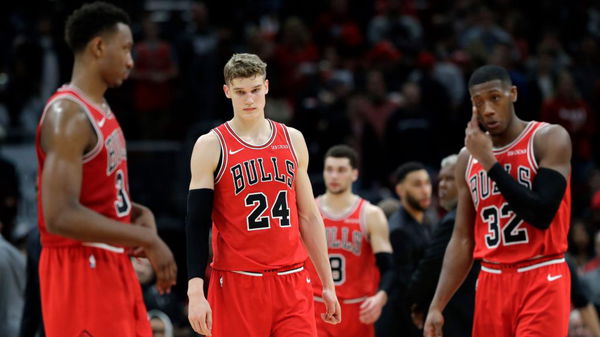 ---
---
With the NBA returning on the scheduled date 31st July, eight teams have been left out of the league. Commissioner Adam Smith has announced the comeback of a 22-team season. Former NBA player, Kendrick Perkins says that those eight should consider themselves responsible for such a result.
ADVERTISEMENT
Article continues below this ad
The Knicks, Hornets, Bulls, Pistons, Hawks, Timberwolves, Cavaliers and Warriors have known by now that their season has come to an end. There is no chance of getting back for either of them.
On Thursday's episode of ESPN 'First Take', Kendrick bluntly blamed the eight teams for not making to the NBA playoffs. "You know who they should be mad at? Them damn selves for taking the season for granted and not winning games. It's hard to win in the NBA." 
ADVERTISEMENT
Article continues below this ad
Kendrick Perkins believes they should have taken NBA regular-season more seriously
According to Perkins, "they should be pissed off at themselves" and teams like Grizzlies deserve it to be there. Former NBA veteran seemed angry at those who didn't take the regular-season seriously, and so now they don't hold the authority to complain.
"You should've took the regular-season more serious because it's so hard to win in the NBA," Kendrick added. "It's an earned privilege to be in the playoffs and be in the playoff race in the NBA, and those other teams haven't earned that right."
ADVERTISEMENT
Article continues below this ad
After the season being shut down in the month of March due to pandemic, the eight teams will see this league equivalent to over for them. And on the other hand, those continuing the NBA action will be at Walt Disney World in Orlando.
Surely it will not be the same with the stands empty, but the fans are eagerly waiting for the league to be back. It will be interesting to watch which teams could maintain their form after the COVID-19 pandemic. Will the Lakers still be counted as the favorites or some other team will sweep through the playoffs?
Those left out also have things to worry about. The next draft is their area of concern at the moment.
ADVERTISEMENT
Article continues below this ad